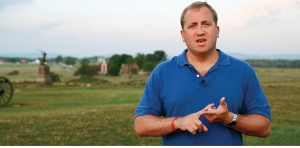 In July 2020, the House Divided Project at Dickinson College partnered with the National Council for History Education (NCHE) and the US Army Heritage and Education Center (AHEC) to offer a special colloquium for K-12 educators on "Industrialization of Warfare."   This colloquium was funded from a grant by the Library of Congress (LoC) on Technology's Impact in American History (TIAH).  Lots of acronyms all around –but the the bottom line is a fascinating series of topics to consider for history and social studies classrooms with plenty of modern-day resonance.  Originally, this gathering of about 30 educators was supposed to take place in Carlisle, PA at AHEC and on the Dickinson campus, but owing to the pandemic, we were compelled to take our talents to Zoom instead.  Below you can find the PDFs from House Divided Project director Matthew Pinsker's daily lectures at the colloquium.  Each one is organized around an essential question and offers a litany of free, supporting online resources put together by students and faculty at Dickinson College.
DAY 1: INDUSTRIALIZATION AND WAR STRATEGY
Essential Question:  How did 19th-century industrialization change American military strategy?
DAY 2: MODERN COMBAT AND THE COMMON SOLDIER
Essential Question:  What were the most challenging aspects of modern war for American soldiers?
DAY 3: INDUSTRIALIZATION AND THE HOMEFRONT
Essential Question:  How did the Civil War and WWI affect American society?