Gettysburg Virtual Tour
On this page, Civil War historian Matthew Pinsker leads a unique one-hour "teacher's tour" of the Gettysburg National Military Park in a series of short videos that emphasize human stories and teachable insights.  These multi-media clips, produced by the Gilder Lehrman Institute of American History during Fall 2013, are designed especially for use in secondary and undergraduate classrooms. You can view them in one full hour video or through the series of 13 stops listed below.  They provide a brief overview of the 1863 Pennsylvania campaign as well as distinct sections on each of the three days of the pivotal battle (July 1-3, 1863). There is also a concise tour of the Soldiers National Cemetery where Abraham Lincoln delivered the Gettysburg Address (November 19, 1863) and which features some powerful and largely unknown stories about Lincoln's great speech.  Finally, please note the supporting handouts that are free to use for non-commercial, educational purposes.
Full Tour (1 hour)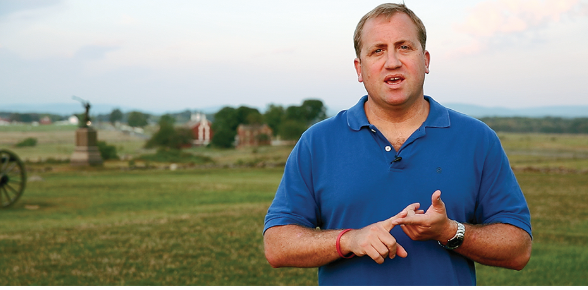 A Teacher's Tour of the Battle of Gettysburg [full tour] from The Gilder Lehrman Institute on Vimeo.
Supporting Handouts —Gettysburg Maps // Gettysburg Day 1 // Amos Humiston // Gettysburg Day 2 // Bureau of Military Information // Gettysburg Day 3 // Understanding Lincoln's Map // Gettysburg Address Revisions // Sam Wilkeson
Stop 1: Introduction and Campaign Overview –Video = 8:33 min. Pinsker discusses the last Blue-Gray reunion in 1938 and provides essential background to understanding Lee's 1863 raid into Pennsylvania.  Location:  Eternal Light Peace Memorial, Oak Hill.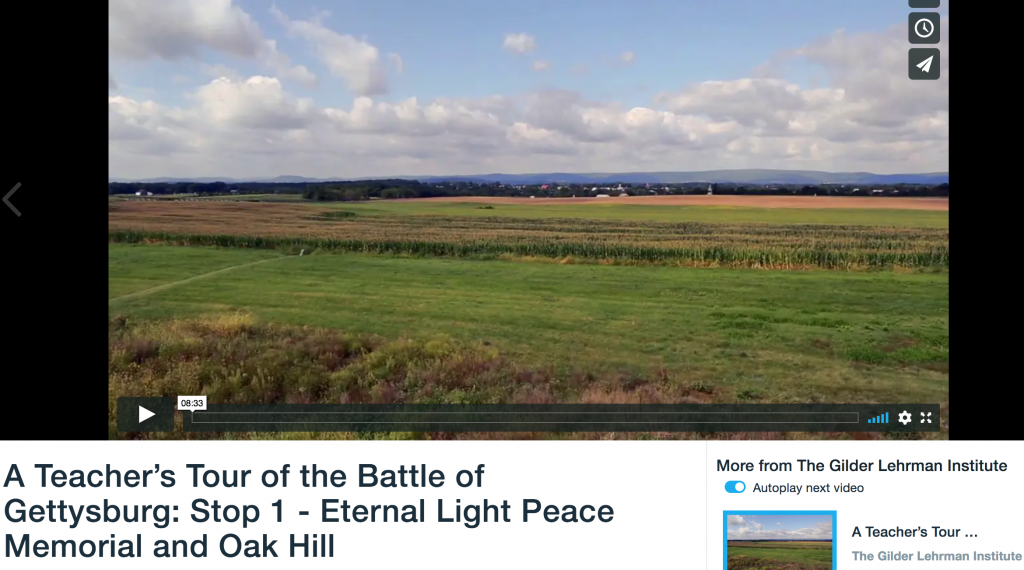 Stop 2: Day One–Video = 4:37 min.  Pinsker discusses fighting near McPherson's Woods on July 1, Union cavalry commander John Bufurd's shrewd use of terrain on the west side of town, and the fast-changing structure of the Union command during the Gettysburg Campaign.  Location: McPherson's Woods
Stop 3:  Bayard Wilkeson –Video = 2:51 min.  Pinsker introduces the story of a young Union officer named Bayard Wilkeson who was mortally wounded on July 1.  Location: Barlow's Knoll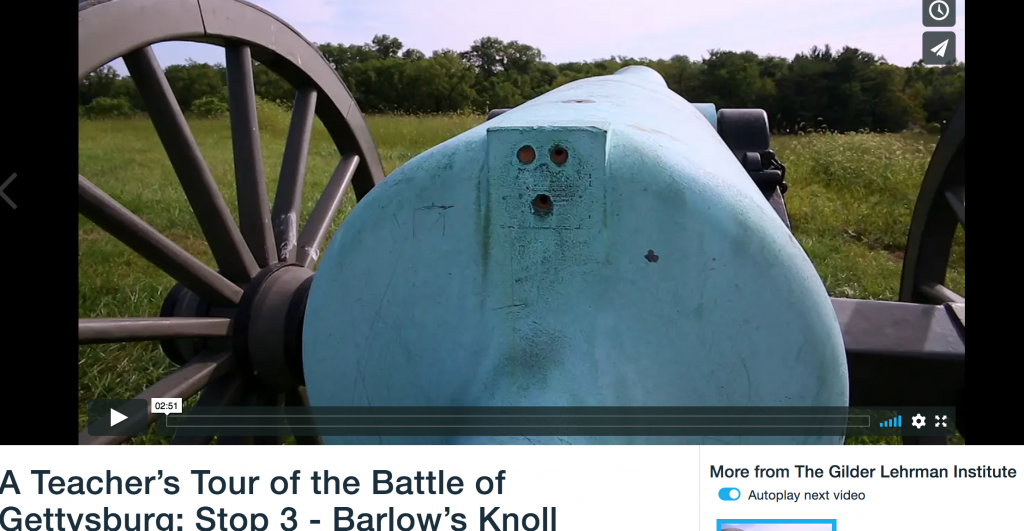 Stop 4:  Amos Humiston —Video = 3:98 min.  Pinsker relates the story of sergeant from New York who died on the first day's battle holding a photograph of his children and no other form of identification.  Location:  Stratton Street, Gettysburg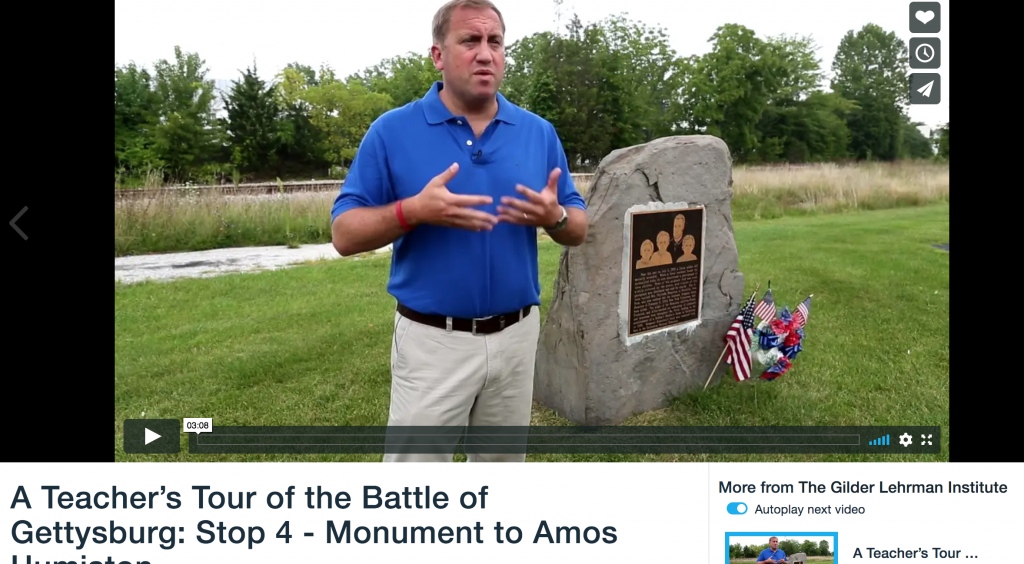 Stop 5:  Lee at Gettysburg –Video = 3:38 min.  Pinsker analyzes Lee's objectives as he arrives on the battlefield at the end of the first day of fighting.  Location:  Virginia Monument, Seminary Ridge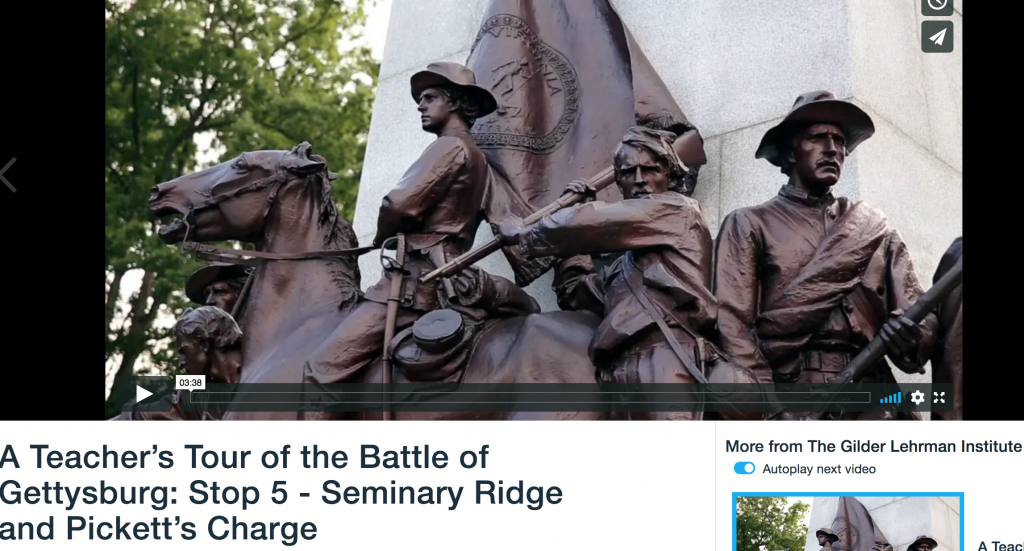 Stop 6:  Longstreet's Assault, Day Two –Video = 5:07.  Pinsker describes the argument between Lee and Longstreet over how to proceed with the fighting on July 2.  Location:  Longstreet's Statue, Seminary Ridge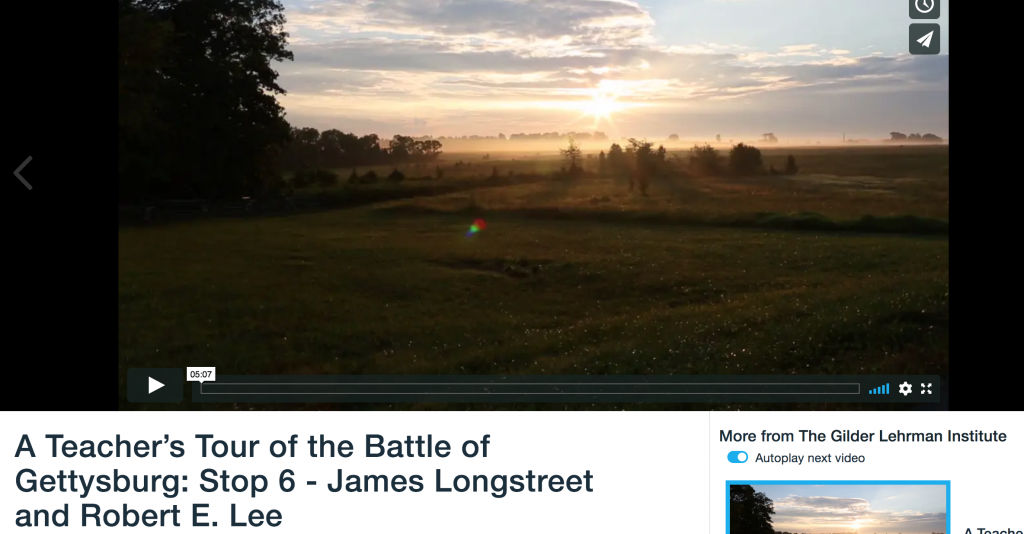 Stop 7: Joshua Lawrence Chamberlain at Little Round Top –Video = 5:33 min.  Pinsker recounts the celebrated heroism of various officers and soldiers at the end of the Union lines on July 2, 1863.  Location:  Little Round Top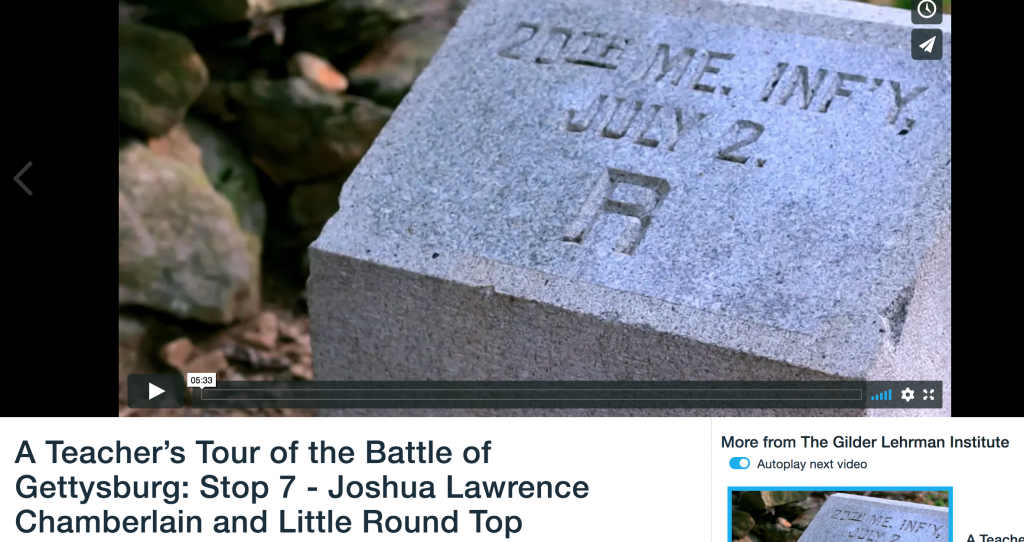 Stop 8: Fighting on Day Two –Video = 3:02 min.  Pinsker offers details about the Taylor brothers who fought with the First Minnesota.  Location:  Cemetery Ridge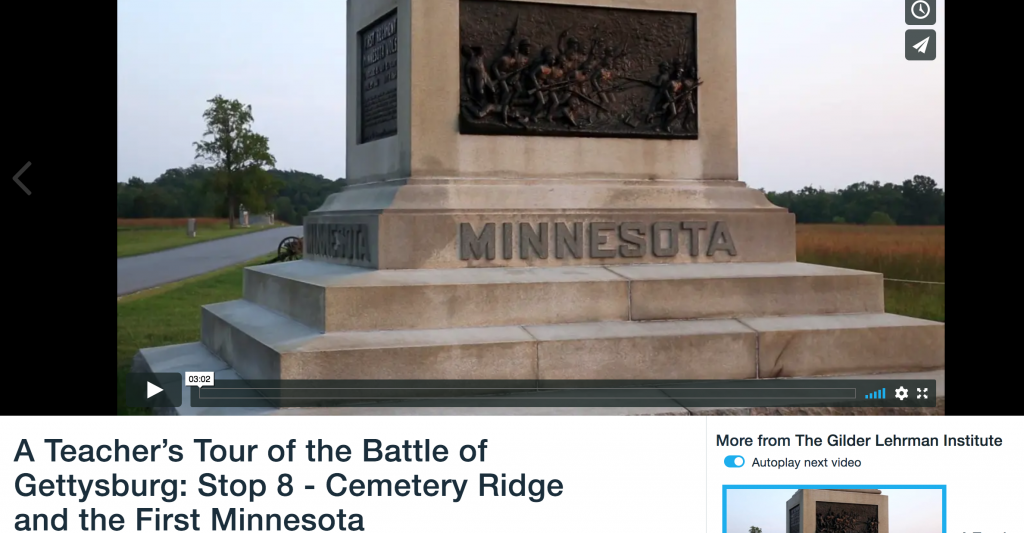 Stop 9:  Bureau of Military Information (BMI) –Video = 3:50 min.  Pinsker highlights the little-known contributions of Union spies, led by Col. George H. Sharpe, during the Gettysburg Campaign and especially at the end of the second day's fighting.  Location:  Meade's Headquarters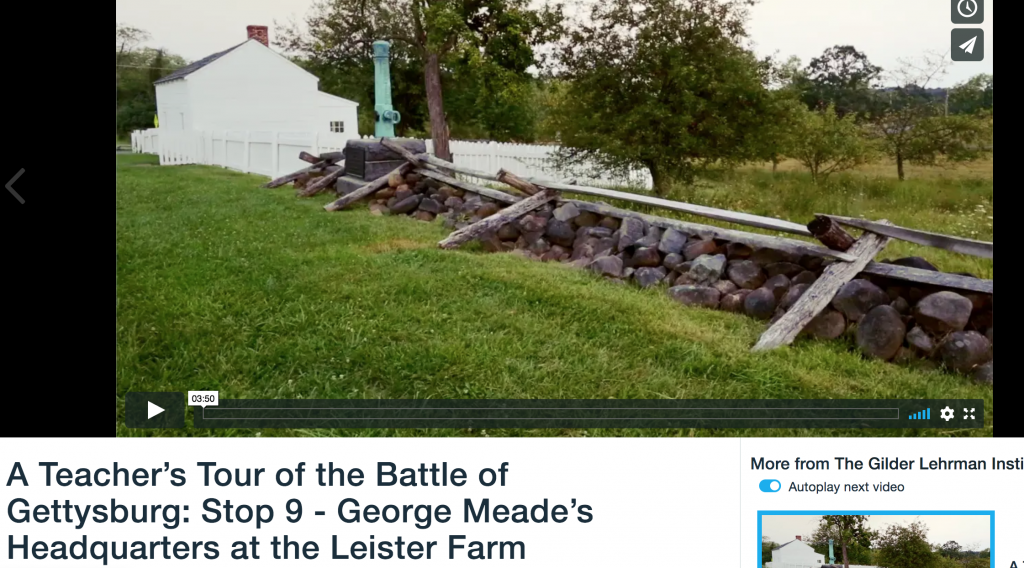 Stop 10:  Pickett's Charge  –Video = 4:43 min.  Pinsker recounts the story of Pickett's Charge and the terrible human cost of the fighting on July 3.   Location:  Confederate "High Water Mark"
Stop 11: Confederate Retreat –Video = 3:46 min.  Pinsker describes the aftermath of Pickett's Charge and the retreat back to Virginia that Lee organized between July 4 and July 14, 1863.  Location:  Seminary Ridge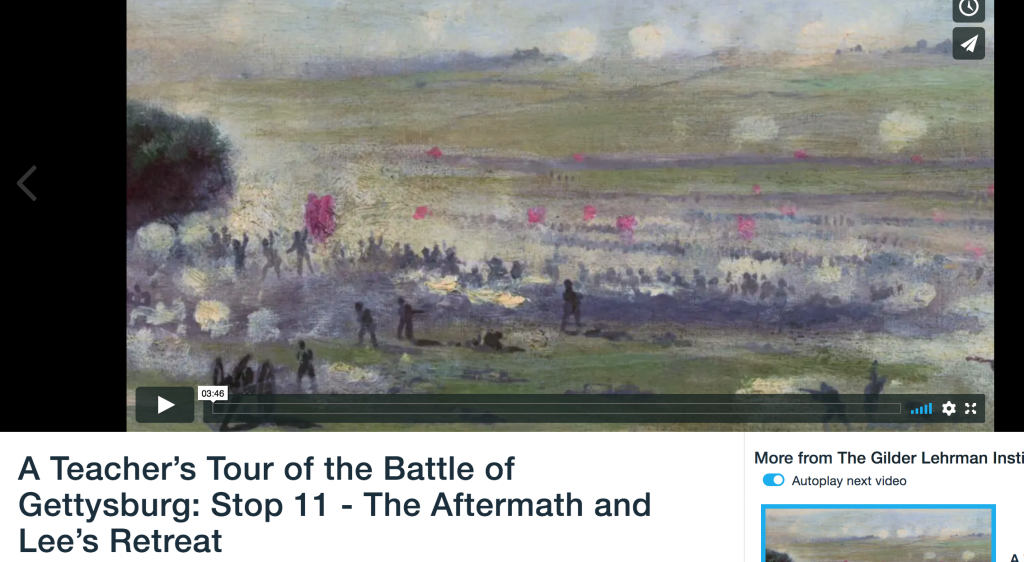 Stop 12:  The Gettysburg Address –Video = 10:58 min.  Pinsker narrates the story of how Lincoln pulled together the text for the address which he delivered in Gettysburg on November 19, 1863.  Location:  Soldiers' National Cemetery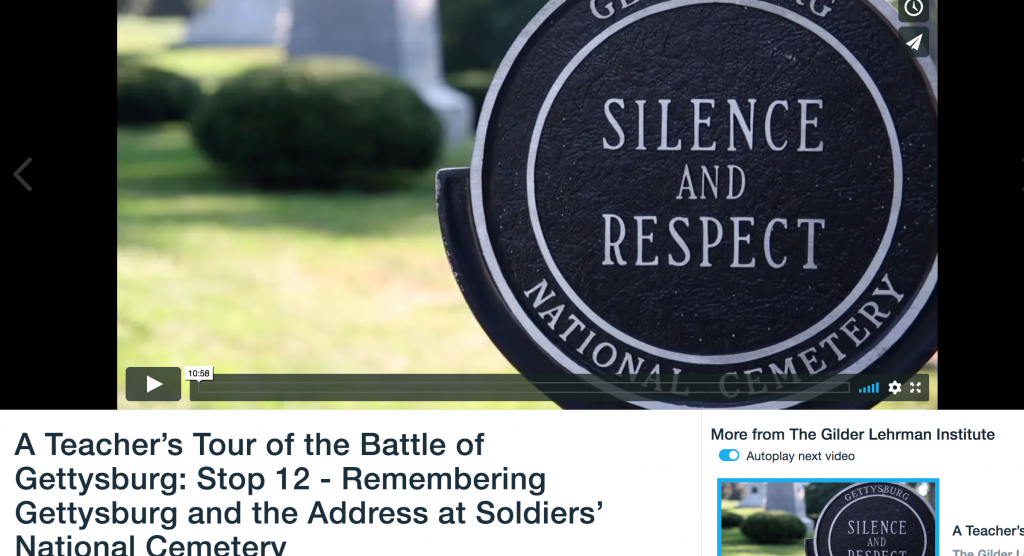 Stop 13:  Reflections –Video = 2:39.  Pinsker reflects on whether or not we should teach Gettysburg as the "turning point" of the war.  Location:  Gettysburg Battlefield