In previous seminars, students who successfully completed their seminar assignments received free and transferrable college credit. In 2023, we are reducing the residential experiences to two weeks and therefore are planning (pending approval) to offer free optional credit only to those participants who want to continue the program via a remote option in August.**
Below is a sample of the assignments required from previous seminar participants seeking college credit.
Pre-Seminar Reading
Optional pre-reading for the seminar includes three short essays by Project Director Matthew Pinsker:
Web Portfolio
Upon arrival at Dickinson, seminar participants will be assigned their own website in a WordPress platform (hosted by Dickinson) and will be taught how to build out both content and design for the creation of their own web-based portfolio.  These online portfolios will then serve as a way for students to share their best academic work and most important civic commentaries with their family and friends, with potential colleges, and with the wider world.  Dickinson College will continue to provide free hosting services for these websites through 2023.
During the first two weeks of the July seminar, students will have two short close reading reflections due; on Sunday night, July 18 and Sunday night, July 25.  These two close reading reflections (about 500 words or  2-3 pages single spaced) will summarize and analyze one of the featured texts from that previous week's daily reading schedule.   All reflections should be posted at the student's personal WordPress site with a selection of 2-3 images (properly credited and captioned) and with one short, embedded video or audio file that attempts to bring to life a short snippet (20 to 60 seconds) from the assigned text.  These assignments will be graded on the basis of prose quality, analysis, and video effort.  Models for these reflections will be available from the work of the undergraduate tutors.  Students are required to participate in brainstorming sessions with their group TA on Thursday nights and in draft reviews for their essays on Saturday morning and for their videos on Sunday morning.
Two weeks after completion of the July seminar (by August 15, 2022), students seeking college credit will be required to submit an expanded version of their personal website, featuring revisions for their previously submitted blog  close reading reflections, one new close reading reflection (from any week of the seminar) and a new longer essay (about 1,500 words or roughly 3 to 5 pages, single spaced) that draws lessons about how best to achieve change in American democracy through comparing and contrasting the antislavery strategies of Frederick Douglass and Abraham Lincoln.  Essays should include properly captioned and credited images as well as Chicago-style footnotes, citing wherever relevant the primary source texts from the course syllabus as well as from James Oakes's dual biography of Douglass and Lincoln provided by the program, .  Outside research beyond these materials is allowed but not required. Final web projects will be graded on prose quality, research and web design design efforts, and depth of analysis.  Models for these web projects will be available from the work of the undergraduate tutors:
***2021 Hall of Fame entry by Etsub Taye (Penn Manor High School)***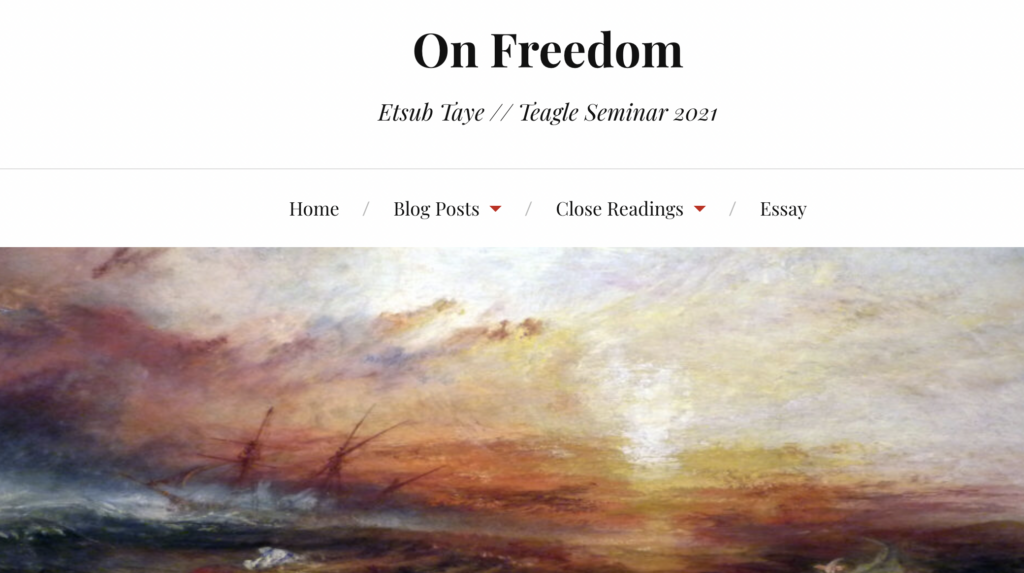 The best student website projects will also be considered for inclusion in the Student Hall of Fame, a designation that covers more than 150 of the best projects submitted to Prof. Pinsker in his undergraduate and graduate classes over the previous decade.
Check out a recent entry in the Student Hall of Fame from a Dickinson  first-year student in a seminar on "Dickinson & Slavery":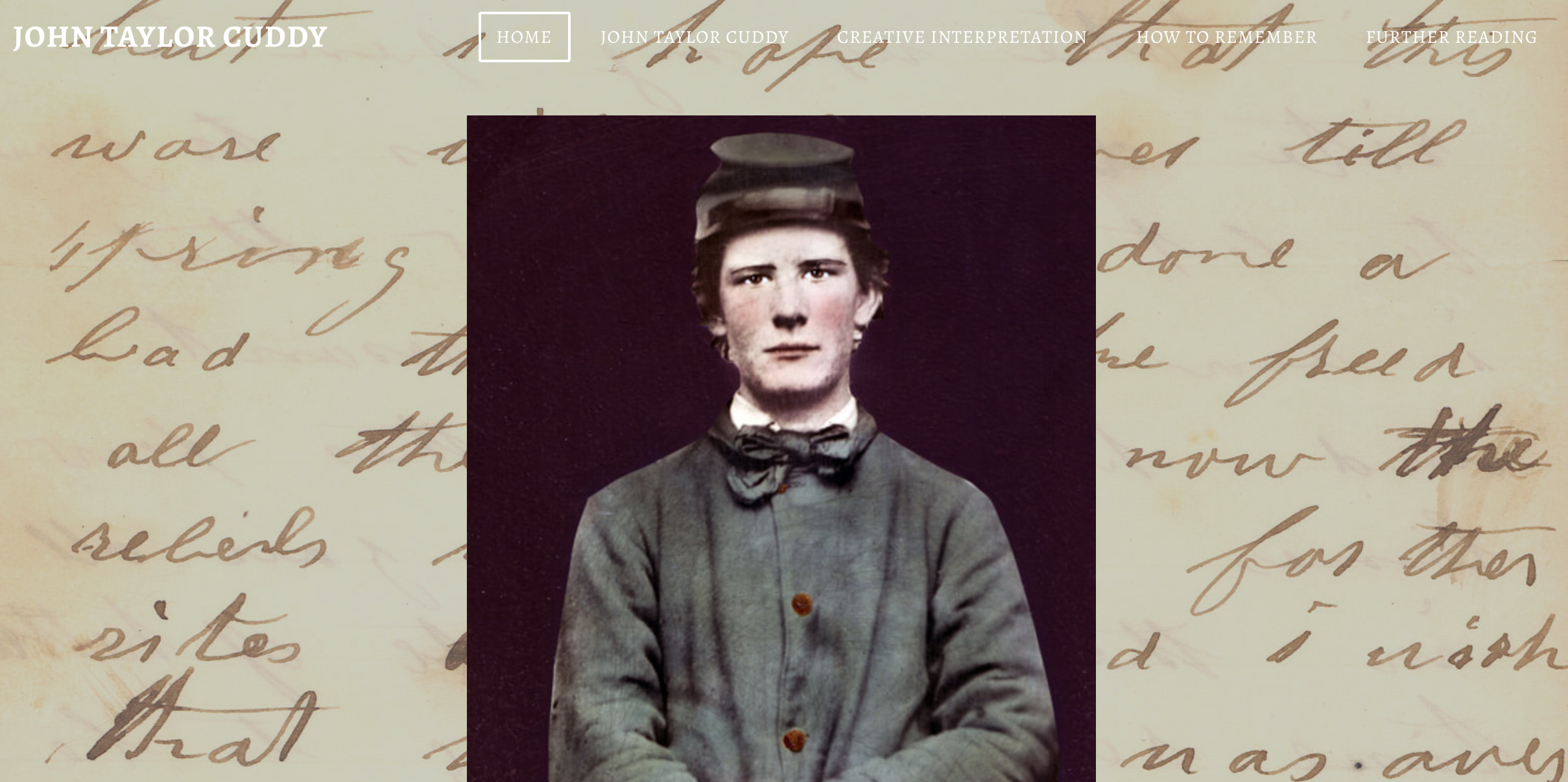 Maeve Thistel, "John Taylor Cuddy," (2019)
**  Credit decisions also come with the caveat that all institutions of higher education determine the transferability of college credit on their own basis.
UPDATED COVID STATEMENT:  Participants in the 2022 seminar will be required to be fully vaccinated and boosted at least one month prior to their on-campus arrival on July 10, 2022.  Those unable to meet this requirement may request permission to participate remotely during our three-week session.