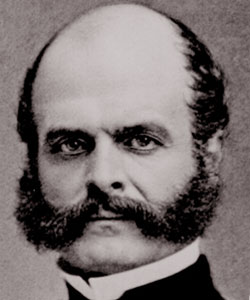 Battle of Fredericksburg took place in Spotsylvania County, Virginia between December 11–15, 1862 and marked General Ambrose Burnside's first major campaign as commander of Army of the Potomac. While Burnside's overall objective was to march on Richmond, Virginia, his army had to first successfully cross the Rappahannock river near Fredericksburg. General Robert E. Lee's Army of Northern Virginia, however, defeated Burnside's forces and forced them to retreat. Some estimates put the total number of casualties at 17,929 (Union 13,353, CSA 4,576), which included four generals – two Union (C. Feger Jackson and George Bayard) and two Confederate (Thomas R.R. Cobb and Maxey Gregg). The National Park Service's website on Fredericksburg provides a nice overview of the battle and offers a number of resources. There are over ten galleries of modern and historic photographs, including "Fredericksburg Sketches" and "Historic Photos." In addition, the site is creating a virtual tour of the battlefield. Anyone planning on a visit should check out their tour options. The Encyclopedia of Virginia, which is produced by the Virginia Foundation for the Humanities, also provides a nice overview of the battle and links to historic images. Other primary sources about this battle are available at Cornell University's Making of America, which provides digital access to historical periodicals like The Century. In August 1886, this magazine published five articles by officers who were involved in the battle, including General James Longstreet (HD profile / article) and Union Generals Darius Couch (HD profile / article), William Farrah Smith (HD profile / article), and Rush C. Hawkins (article).Longstreet argued that:
"The battle of Fredericksburg was a great and unprofitable sacrifice of human life made, through the pressure from the rear, against a general who should have known better and who doubtless acted against his judgment. If I had been in General Burnside's place, I would have asked the President to allow me to resign rather than execute his order to force the passage of the river and march the army against Lee in his stronghold."
You can also find other documents related to this battle in volume 21 of the Official Records.