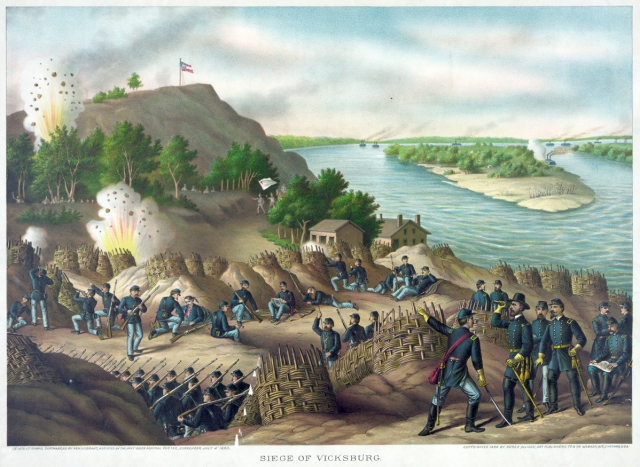 Within twenty four hours of the Union's victory at Gettysburg, Pennsylvania in July 1863, Confederate General John C. Pemberton surrendered his forces at Vicksburg, Mississippi on July, 4, 1863 to General Ulysses S. Grant after a long siege. Vicksburg is a city located along the Mississippi River and the Confederacy's loss of such an important port was a serious loss. Teachers should check out the great resources on National Park Service's page and in their online exhibit, which are described in an earlier post. House Divided has several interesting documents that offer a variety of perspectives on Vicksburg, including a Confederate private who told his wife what he believed was responsible for the defeat. General Pemberton's forces surrendered "on the account of provisions," as Private William Stoker explained. Stoker, who was with General John Walker's Texas Division in Louisiana when he heard about Vicksburg, argued that "[the Union] could [never] of whipped us there if we…of had [enough] provisions." General William T. Sherman, who also participated in the Vicksburg Campaign, reflected after the war on some negative consequences of the Union's victory:
"But our success at Vicksburg produced other results not so favorable to our cause a general relaxation of effort, and desire to escape the hard drudgery of camp: officers sought leaves of absence to visit their homes, and soldiers obtained furloughs and discharges on the most slender pretexts; even the General Government seemed to relax in its efforts to replenish our ranks with new men, or to enforce the draft, and the politicians were pressing their schemes to reorganize or patch up some form of civil government, as fast as the armies gained partial possession of the States."
In addition, this short newspaper article from the Vicksburg Whig provides a nice example of the way southern editors portrayed Union soldiers' conduct during the campaign. You can find other primary sources in the Vicksburg Campaign major topic at House Divided as well as in volume 15 of the Official Records.