"He said, in substance, Ninety years ago our fathers formed a Government consecrated to freedom and dedicated to the principle that all men are created equal." Centralia (IL) Sentinel November 26, 1863, from coverage of Lincoln's Gettysburg Address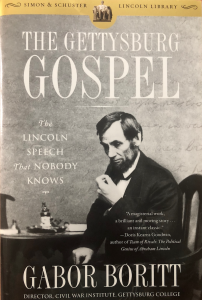 Ninety years ago? Imagine being the Civil War-era reporter who did not believe that the phrase "Four score and seven years ago" was memorable enough to record in its exact language. Yet historian Gabor Boritt includes this passage from the Sentinel's slightly botched coverage of Lincoln's Gettysburg Address in his book, The Gettysburg Gospel (2006). Boritt uses the example as a way to highlight the surprisingly complicated story about how Lincoln's brief speech at the Soldiers' National Cemetery dedication was received in late 1863 and then how the memory of it changed 0ver the years that followed. Boritt's book introduces readers to a host of primary sources, including numerous historical newspaper accounts, that show a wide range of reactions to Lincoln's now-famous and universally-celebrated words. This post attempts to organize some of these sources for teachers and students to view themselves. In addition, I have started to collect various post-war recollected accounts of the dedication ceremony, including some that Boritt does not feature, as a way to provide first-hand accounts of that memorable day on November 19, 1863.
Local Reactions
"How the president's words were reported would impact how they were received. People often read papers out loud, and what they heard, if they read his remarks, varied widely." (Boritt, 142)
Republican Reactions
"The Republican papers printed overwhelmingly favorable editorial comments." (Boritt, 131)
Democratic Reactions
"Most of the Democratic papers tried to hide, or entirely ignore, the president's speech, which they regarded as the start of his presidential campaign." (Boritt, 140-141)
British Coverage
Recollections
Further Reading
Boritt, Gabor. The Gettysburg Gospel: The Lincoln Speech that Nobody Knows. New York: Simon and Schuster, 2006.
Pinsker, Matthew. Lincoln's Gettysburg Addresses. House Divided Project exhibit at Google Arts & Culture, 2013.