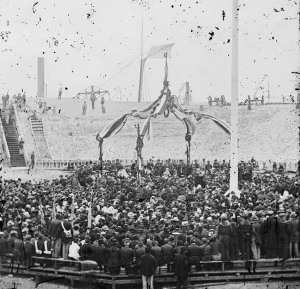 Exactly four years after he had surrendered Fort Sumter to the Confederates, Union officer Robert Anderson returned to Charleston to help once again raise the U.S. flag over the now-ruined harbor fortifications.  Following an emotional mid-day ceremony, hundreds of men and women, included dozens of notable figures like abolitionist William Lloyd Garrison, gathered on Friday afternoon, April 14, 1865 to hear the Reverend Henry Ward Beecher deliver a commemorative speech from what he memorably called, "this pulpit of broken stone."  Beecher spoke at length about the meaning of the war, offering President Lincoln in particular his "solemn congratulations" for his "disinterested wisdom" during the long conflict and for having maintained "his life and health under the unparalleled burdens and sufferings of four bloody years."   Yet that very night, of course, the president was shot at Ford's Theatre.  Lincoln died the next morning at almost exactly the same time that Garrison had gone with several of the other leading abolitionists to visit the gravesite of the late secessionist John C. Calhoun.  The day before Beecher had vowed that "Slavery cannot come back." Now, standing over Calhoun's imposing tombstone, Garrison sternly echoed that sentiment by telling his friends: "Down into a deeper grave than this, slavery has gone, and for it there is no resurrection."
It was yet another one of those unforgettable moments from the American Civil War, and what makes it even more compelling is that we have some amazing photographic evidence of that astonishing trip.  The War Department had sent several photographers to help capture scenes from the Sumter events and then from across the devastated city of Charleston.  These are all now in the collection of the Library of Congress. Some of these images are famous, and widely reproduced, like the ones of the four black children (in Union military garb) seated by the pillars of the city's well known circular church:
Other images from that period are less familiar, but still vital for understanding the narrative details of this critical episode.  In particular, there is one heavily damaged image, not usually reproduced, but which shows a level of crowd detail from around Beecher's speech unprecedented in the other images from the series.
Yet that heavily stained image (above), yields this wonderful detail (below), which clearly shows Major General Anderson, seated on the crowded platform itself, casually holding a walking stick, just to the right (our left) of the standing Rev. Beecher, who is tightly clutching the pages of his windblown speech.
Relying on this image and others from the series, we here at the House Divided Project have been busy trying to identify the rest of the notables at the event.  Most important, we are trying to figure out exactly where editor William Lloyd Garrison was seated.  His best modern biographer, the late Henry Mayer, used a detail from one of the blurrier versions of this image to claim that Garrison was probably the man in the big hat seated a few feet to Beecher's left (our right), but the quality of this particular detail shows how unlikely that was.
We think it is far more likely that Garrison was this lean, spectacled man, standing here (right) in reflective pose after the ceremony.  In part, we believe this man was Garrison, because other images from the event suggest that he was seated behind Gen. Anderson, among other leading abolitionists, such as George Thompson, from Britain (and Garrison's close friend), and also New York antislavery editor Theodore Tilton.  White House aide John G. Nicolay, who was serving as the president's personal emissary to the event, was also in that section of the platform. Details from some of these images are provided below.  We also have some zoomable versions at the House Divided research engine, showing preparations, and two slightly different versions of Beecher's speech, here and here.  The bulk of the images from that journey have been digitized by the Library of Congress, more than two dozen of them are now available online.  Check them all out and decide for yourself.  If you come across anything important, please offer your insights in the comments section below.  If you can, please help us identify any other notables in the audience.  We are especially eager to find Robert Smalls, the ex-slave and wartime hero.  Newspaper accounts claimed that the ceremony was attended by a mixed race crowd and that Smalls was present and widely celebrated –but we cannot find him, nor actually much evidence of any black presence near the speaker.