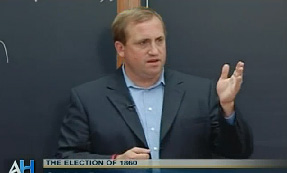 The House Divided Project at Dickinson College and the Gilder Lehrman Institute of American History are doing something unprecedented. They are launching an open,online graduate course called "Understanding Lincoln" that will be taught by noted Lincoln scholar Matthew Pinsker in Summer / Fall 2013 and available for anybody who wants to learn more about Abraham Lincoln and his legacy during the the period leading up to the 150th anniversary of the Gettysburg Address. The limited enrollment graduate section of this unique online seminar which offers a full-semester graduate course credit (3.0 hours certified by transcript from Dickinson College) is designed especially for K-12 educators who want to learn innovative ways to teach Lincoln's writings within the new Common Core state standards. Registration for graduate students ends on Friday, July 19, 2013 but space is limited and enrollment will close on a first-come, first served basis.  The course tuition is $450.  The open section of the course is entirely free, however, and offers any lifelong learners a chance to follow along with selected elements of the experience and to receive a Certificate of Completion from Dickinson College if they complete certain key components of the coursework.
Graduate students in the limited enrollment section of the online course will also have a very special opportunity to participate in the events surrounding the 150th anniversary of the Gettysburg Address.  On November 19, 2013, selected graduate students from "Understanding Lincoln"  will be invited to attend the anniversary commemoration in Gettysburg, Pennsylvania at no cost –including free travel and accommodations.  After the morning Dedication Day ceremonies, we will host a live-streaming webcast directly from the historic Wills House in Gettysburg where President Lincoln stayed during the night before he delivered his famous address.  Partly through the extraordinary generosity of the Lincoln Leadership Institute, we will then be able to highlight the best multi-media final  projects submitted by students in the course.  These are the students who will be selected by Prof. Pinsker to attend the ceremonies and present their work in a live online session with fellow students and other interested course observers.
If you'd like to see an example of how this online learning experience works in a history course, please check out this video segment on the Emancipation Proclamation, produced by Gilder Lehrman education coordinator Lance Warren and featuring Prof. Pinsker leading a short, close reading of the January 1, 1863 document.  You might be surprised by what you don't know about this famous executive order and how much can be gained by going through it almost line-by-line.
Additional Course Information
Faculty Profiles
Matthew Pinsker will be the main instructor for "Understanding Lincoln."  Pinsker holds the Brian Pohanka Chair for Civil War History at Dickinson College in Carlisle, Pennsylvania where he also directs the House Divided Project, an innovative effort to create free digital resources on the Civil War Era for K-12 classrooms.  Pinsker is the author of various books and articles on Abraham Lincoln, including Lincoln's Sanctuary (Oxford, 2003) and the forthcoming Boss Lincoln (W.W. Norton).  Currently, Pinsker serves as a Visiting Research Professor at the Strategic Studies Institute of the US Army War College in Carlisle, Pennsylvania.  He is also a Distinguished Lecturer with the Organization of American Historians (OAH) and a Bernard L. Schwartz Fellow at the New America Foundation in Washington, DC.
Lance Warren will serve as the chief course producer.  Warren is Director of Digital Projects for the Gilder Lehrman Institute of American History.  He leads Gilder Lehrman's online education programs and creates original video content for use in K-12 classrooms.  His co-directed film, That World is Gone: Race and Displacement in a Southern Town, won the Audience Award for Short Documentary at the 2009 Virginia Film Festival.  Warren received a B.A. in History and Political Science from Syracuse University  and an M.A. in History from Brandeis University.
Course Description
Nobody would have appreciated the power of open online education more than Abraham Lincoln, one of the great self-made, lifelong learners in world history.  This open online graduate history course aspires to create the kind of course that Lincoln would have appreciated. Just about 150 years ago, President Lincoln explained at Gettysburg how he believed that the Civil War would establish what he termed "a new birth of freedom" for the United States.  During our sessions in 2013 (July 23-Nov. 19), Professor Matthew Pinsker will use this anniversary moment to share the latest historical insights about Lincoln as well as to introduce participants to a number of cutting-edge digital resources for the study and teaching of Lincoln's legacy.  The course will be organized around five popular designations that have been applied to the great president over the years (Railsplitter, Honest Abe, Father Abraham, Great Emancipator, and Savior of the Union) and will dig deeper into each of these themes in order to help explore their origins and assess their validity. In the process, participants will come to better understand Lincoln as man and president, and will also enjoy a unique online platform to share their own insights.
Course Objective
Crowd-sourcing is a phrase used to describe how individuals can help develop online projects by contributing content to them remotely.  Through the "Understanding Lincoln" course, we will attempt an experiment in what might be called "class-sourcing."  Participants in this course will have the opportunity to develop various types of content that will be published online as part of a forthcoming multi-media edition of Lincoln's selected writings.  The very best work by course participants will then be featured during a Livestreaming field trip to Gettysburg on November 19, 2013 –the date which marks the 150th anniversary of the Gettysburg Address.  We will webcast that day from the historic Wills House where Lincoln slept the night before delivering his famous remarks. Three seminar participants whose work has been judged the best in the course will then be invited to participate in the November 19 events at no cost to themselves –with travel and lodging costs paid for by the course sponsors.
Course Readings
All readings for this course will be freely available online.  Beyond intensive readings of Lincoln's own letters, speeches and personal documents, participants will also have assigned essays and articles to read from leading historians such as David Blight, Michael Burlingame, Eric Foner, Mark Neely, James Oakes, and Sean Wilentz.
Course Assignments
Graded assignments for this course will include various types of online discussion and written participation as well as a series of short writing assignments, including blogging.  The culmination of the course will involve the production of a major multi-media teaching project with an accompanying research paper that describes the project's pedagogical intentions.  The final multi-media projects will employ at least one of the digital tools introduced during the course utilized in a way that helps teach Lincoln's legacy in a creative fashion by presenting various documents and writings from his contemporaries.
 Course Schedule
Dates and times for particular course sessions remain subject to change, but here is a tentative list of key course events:
Friday, July 19 Registration closes
Tuesday, July 23 Seminar Introduction (7-9pm EST)
Thursday, August 1 Discussion section (7-9pm EST)
Wednesday, August 7 Seminar –Lincoln the Railsplitter (7-9pm EST)
Wednesday, August 14 Discussion section (7-9pm EST)
Wednesday, August 21 Seminar –Honest Abe (7-9pm EST)
Wednesday, August 28 Seminar –Father Abraham (7-9pm EST)
Tuesday, September 3 Seminar –Great Emancipator (7-9pm EST)
Tuesday, September 10 Seminar –Savior of the Union (7-9pm EST)
Tuesday, October 15 Final multi-media projects due
Tuesday, November 19 Virtual Field trip –Gettysburg Address with special participant presentations (Time TBA)
Sunday, December 15 Final grades posted