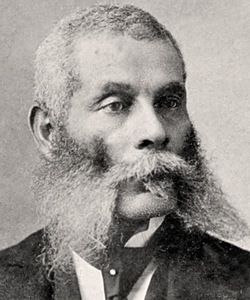 Alexander Kelly was an African- American Civil War soldier who was awarded the Congressional Medal of Honor.  He was born on April 7, 1840 in Saltsburg, Pennsylvania and worked as a coal miner prior to his involvement in the war.  On August 19, 1863 in Allegheny City, Pennsylvania he enlisted in Company F of the 6th United States Colored Troops Regiment  as a substitute for someone named Joseph Kelly.  He was originally trained at Camp William Penn in Chelten Hills, Pennsylvania.  Although Kelly was small in stature, standing at only about 5 feet 3 inches tall, he was commended for his actions at Chaffin's Farm in Henrico County, Virginia on September 29-30, 1864.  The National Park Service's website includes a brief summary on the battle at Chaffin's Farm (also known as New Market Heights) that includes how  Union Major General Benjamin Butler attacked General Robert E. Lee and the Confederate forces at Richmond.  A more detailed description of the battle at Chaffin's Farm is provided in "Pennsylvania Negro Regiments in the Civil War ."  Kelly was awarded a Congressional Medal of Honor  on April 6, 1865 for his bravery and leadership at Chaffin's Farm.  General Benjamin Butler noted in an order  issued on October 11, 1864:
"Alexander Kelly, first sergeant Company F, Sixth U.S. Colored Troops, gallantly seized the colors, which had fallen near the enemy's lines of abatis, raised them, and rallied the men at a time of confusion and in a place of great danger."
Another resource that may be interesting to browse is Black Union Soldier's  in the Civil War which has a valuable list detailing all the Black Union Recipients of the Congressional Medal of Honor.  Kelly was "mustered out" of service in Wilmington, North Carolina in 1865.  After the war, Kelly married his wife Victoria on July 30, 1866, and the two had a son named William in January 1867.  He served as a night watchman for the Pittsburgh Police before his death on June 19, 1907.  Kelly is buried in St. Peters Cemetery in Pittsburgh, Pennsylvania.