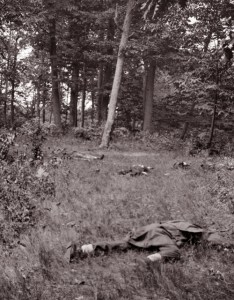 The artist H. Lovie captured a
strange scene
on July 21, 1861 in Manassas, Virginia: civilians sitting on a hill overlooking the clash between the Union and Confederate armies.  Lovie's picture was published in
Frank Leslie's weekly illustrated newspaper
, a great visual resource for documenting the Civil War. Both the picnicking residents of Washington DC and
Gen. Irvin McDowell
' s troops were unprepared for the hard-fought and bloody Confederate victory at the First Battle of Bull Run (Manassas).  With nearly 5,000 combined casualties, this early battle deflated Northern hopes of a quick and easy war.  
General Joseph E. Johnston
, commander of the Confederate Armies of the Shenandoah and of the Potomac reflected on their unlikely victory:
The admirable character of our troops is incontestably proved by the result of this battle, especially when it is remembered that little more than six thousand men of the Army of the Shenandoah with sixteen guns, and less than two thousand of that of the Potomac with six guns, for full five hours successfully resisted thirty-five thousand U. S. troops with a powerful artillery and superior force of regular cavalry… The unfading honor which they won was dearly bought with the blood of many of our best and bravest.
The Virginia Center for Digital History has created a
valuable online resource
in their project entitled "Valley of the Shadow" which examines the Civil War through the eyes of Americans on both sides of the conflict. Students can study the 1st Battle at Bull Run by watching 5th Virginia Infantry and 1st Virginia Cavalry's advance into the battle in the
interactive map
, read
reports
by commanding officers, or skim a
Pennsylvania newspaper
published the weekend following the battle.  The battlefield is preserved by the National Park Service as a national battlefield, and the
NPS website
provides tools for teachers including
lesson plans
and
field trip
outlines.
David Harrison Walton
, Dickinson College Class of 1854, fought as part of the Stonewall Brigade during the first Battle at Manassas, as the first commander of the "Shenandoah Sharpshooters": Company K of the 33rd Virginia.