Abraham Galloway; Slave, Bricklayer, Fugitive, Abolitionist, Spy,…
…(aka BMI-ster), Guide, Recruiter, Organizer, Political Activist, Firebrand, Military Leader, Crusader for Women's Rights, Senator… and dead before the age of 34.
Now that is a life!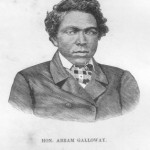 Abraham Galloway, born enslaved, freed himself and was an important figure in the Union Army during the Civil War. He was an important figure in freed and enslaved African American communities throughout his adult life. And rather than saying he worked for the Union army, it might be more accurate to say he worked with the Union army when and if it suited his needs as a leader of the African American community. (When the community was aggrieved by the actions and behaviors of the Union troops, for example, Galloway took names and kicked… but I digress.)
Illiterate, his story and his voice are hard to trace, but historian David Cecelski of North Carolina got lucky and found a trove of letters written by Mary Ann Starkey of New Bern, NC. Starkey was a close confident and fellow activist who worked with Galloway during the Civil War years.Together with his other sources, Starkey's letters made possible Cecelski's forthcoming book on Galloway.
I have used the information from Cecelski's essay on Galloway in The Waterman's Song,  to make a google map of Galloway's life. He lived large. Zoom way out right away, so that you can see the whole enchilada – North Carolina to Ontario, Ohio to Massachusetts.
I am only up to the year 1863 tonight. More tomorrow. Meanwhile, here is a preview:
In the next few years after 1963, he:
Met with Abraham Lincoln as part of a five man delegation agitating for suffrage immediately, if not sooner
Was elected to the North Carolina legislature as a Senator in 1868
Worked always for the advancement of freedmen and freedwomen
 Died unexpectedly in 1870; it was estimated that 6,000 to 8,000 people attended his funeral in New Bern.*
*The population of the New Bern NC at that time was 5,000.
Galloway was the man. And then he faded from view.
Cecelski's book on the life of Abraham Galloway, The Fire of Freedom: Abraham Galloway and the Slaves' Civil War will be released on September 29th, 2012. ( Or you can pre-order it from Amazon, like I did, and save a few bucks.) I strongly recommend you do, too, because Galloway is a guy we are enriched by meeting.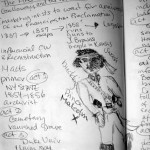 This is the drawing of Abraham Galloway as I imagined him while I listened to David Cecelski introduce him to me, my NEH buddy Kelly Price-Steffen, (Shout out to ya, Kelly!) and the New Bedford Historical Society last summer.
Now I know it is not a good drawing; he defies gravity and looks like he is related to Burt Reynolds, and yet I feel it conveys the swashbuckling element I intended.