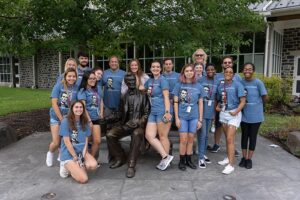 For the second summer, rising high school seniors from across south central Pennsylvania are invited to apply for a free, three-week seminar taking place this July on the historic campus of Dickinson College in Carlisle.
Hosted by Dickinson's  House Divided Project, the college-level seminar will explore the historic struggle for freedom in the United States. It's part of the Knowledge for Freedom program, an initiative from the Teagle Foundation that helps introduce students to a series of great texts addressing fundamental questions about freedom, democracy and self-government. 
In addition to enjoying a college-style experience this summer on the beautiful Dickinson campus, seminar participants will take field trips to Washington, D.C., the Gettysburg battlefield and historic sites in Harrisburg. The seminar is free for participants and includes residential room and board. Students will be eligible to receive college credit for their completed course work and will benefit from extensive mentoring and guidance as they navigate the college admissions process during their senior year of high school.   

Program faculty includes Professor Matthew Pinsker, Director of the House Divided Project and scholar of the American Civil War and Abraham Lincoln, Associate Professor Lynn Johnson, Africana Studies and a noted expert on African American literature, and Dr. Todd Mealy, adjunct professor of history at Dickinson and social studies teacher at Penn Manor High School.
The program is highly competitive and provides preference to low-income or first-generation college students. Applications are due by May 27, 2022.  For more details and to apply, visit https://housedivided.dickinson.edu/sites/teagle/how-to-apply/ or email: pinskerm@dickinson.edu.