On Wednesday, April 7, 2021, the House Divided Project will launch a new Historic Walking Tour on campus for the Dickinson & Slavery initiative. Director Matthew Pinsker, along with students interns Charlotte Goodman ('23), Liz McCreary ('22), and Amanda Sowah ('22), will help lead members of the college community, including President Margee Ensign, on the half mile trek that includes six stops commemorating the role of slavery and freedom in Dickinson College history. This launch event takes place on National Walking Day.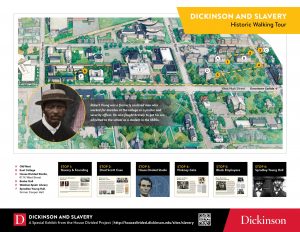 The Dickinson & Slavery initiative opened an exhibit and issued a report in 2019 that helped lead to a decision by the Board of Trustees in May 2020 to began a campus-wide renaming process that would better reflect the diversity of the college's history. New wayside markers represent the first stage of that process. A second stage will occur in November 2021 as the college plans to hold a public renaming ceremony for Spradley-Young Hall and Pinkney Gate with descendants of those nineteenth-century Black Dickinsonians invited to participate.
The six stops on the Dickinson & Slavery Historic Walking Tour include:
Stop 1: Slavery & Dickinson's Founding– Marker describes contributions of enslaved people to the college's founding and the contradictory views of the founders regarding slavery. Location: Old West
Stop 2: Dred Scott Case —Marker explains the role of Dickinsonians on both sides in the controversial Dred Scott Case (1857). Location: Behind East College
Stop 3: House Divided Studio– Outdoor markers and murals help commemorate the role of free Blacks and formerly enslaved people in Dickinson history. Location: 61 N. West Street
Stop 4: Pinkney Gate– Marker honors both Carrie and Noah Pinkney, popular Carlisle food sellers during the late nineteenth and early twentieth century. Location: West Street, facing East College
Stop 5: Black Employees– Marker highlights the contributions of various Black employees during the late nineteenth and early twentieth century. Location: Bosler Hall
Stop 6: Spradley-Young Hall– Banner marks the rededication of this residence hall in honor of Henry W. Spradley and Robert C. Young, two longtime employees of the college and noted community leaders. Location: Former Cooper Hall, High Street
The launch of the Historic Walking Tour coincides with National Walking Day (Wednesday, April 7, 2021) and is being co-sponsored by the Spring Into Fitness Challenge at Dickinson. Members of the college community who would like to participate in the launch event should meet outside of Old West at noon on April 7. Tours can be undertaken either self-guided or guided. The guided tours will take around 30 to 40 minutes and will be entirely outdoors. For more information, download the tour brochure or view the online tour site with supporting videos and other content. This event is NOT open to the general public.