On Saturday, March 23, 2109, from 9am to 5pm, the House Divided Project is sponsoring an open house at 61 N. West Street to highlight its new Dickinson & Slavery exhibit. For that day only, visitors will also be able to view rarely seen relics associated with slavery and emancipation from the renowned J. Howard Wert Collection.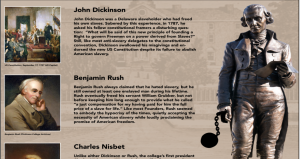 The Dickinson & Slavery exhibit opened on February 1, 2019 and features little-known stories about the college's deep and complicated ties to slavery and anti-slavery. Exhibit panels describe the paradox of college founders, like John Dickinson and Benjamin Rush, who initially owned slaves but eventually became converted to abolitionism. Visitors will also learn about the stories of Dickinsonians during the sectional crisis, including Stephen Duncan (Class of 1805), a Mississippi planter who was one of the country's largest slaveholders, and Richard McAllister (Class of 1840), who was the nation's most aggressive fugitive slave commissioner. But perhaps most revealing, exhibit panels describe the lives of formerly enslaved families that came to call Dickinson and Carlisle their home, during and after the Civil War. One of these figures, Robert C. Young, a long-serving janitor and policeman on campus, also helped to integrate the school in 1886.
The exhibit is usually open to the public only on Wednesdays from 9am to noon.
On Saturday, March 23, 2019, visitors will also be able to see relics from the J. Howard Wert Collection, which is considered one of the finest privately held collections of Civil War era artifacts. Wert came from a prominent antislavery family in Adams County, Pennsylvania. They knew Benjamin Rush. Wert himself was a graduate of Gettysburg College who served as a scout for Union forces during the 1863 battle and was present for the Gettysburg Address later that year. Wert eventually enlisted in the Union army and became a teacher, author and noted school superintendent in Harrisburg. He died in 1920. During his lifetime, however, he continued the family tradition of collecting important historical artifacts. On display at the open house, visitors will see:
Relics from Sam and Bayard Wilkeson, a father and son who were at Gettysburg. Sam Wilkeson was the lead correspondent for the New York Times covering the battle. Bayard, his oldest son, was a young lieutenant, killed on the battle's first day.
Relics of slavery and the Underground Railroad, including an s-brand like the one used in the episode that inspired John Greenleaf Whittier's famous anti-slavery poem, "The Branded Hand"
Relics from George Washington, passed along to the Wert family by their friend Benjamin Rush