(Carlisle, PA) The House Divided Project at Dickinson College is launching a new e-book series that features short biographies of underrated figures from Civil War era history.  Forgotten Abolitionist: John A.J. Creswell of Maryland by John M. Osborne and Christine Bombaro is the first offering in this series, currently available for free download via Smashwords.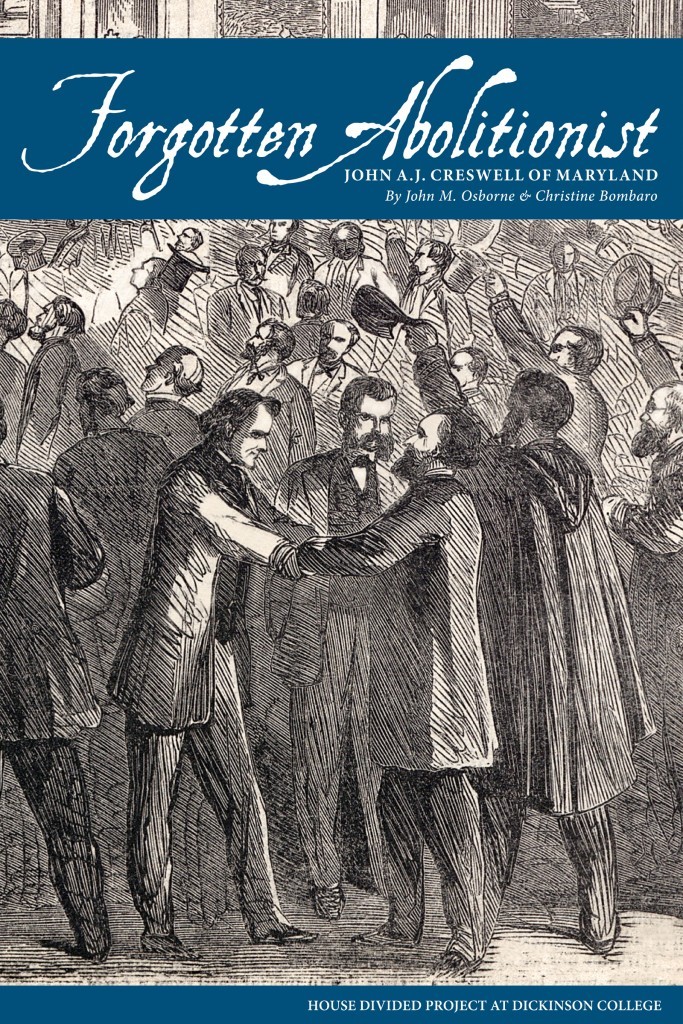 "The story John Creswell is a good example of what this new e-biography series might be able to accomplish," claims project director Matthew Pinsker.  "He is an unknown figure today, but could be used in any classroom in America to help illustrate the revolutionary changes wrought by the Civil War.  Creswell was a former Democratic politician from a border slave state, who developed into a leading advocate for abolition while serving in Congress during the conflict and then later became an important Republican cabinet officer during Reconstruction.  He was one of the pivotal figures in January 1865 who helped secure passage of the Thirteen Amendment in the House of Representatives."
Osborne, an emeritus history professor, and Bombaro, an associate director of the Dickinson library, have been researching and teaching about Creswell (Class of 1848) at Dickinson College for years.  But other scholars have largely ignored him, and he has never before been the subject of a full-length biography.  Creswell did appear, however, in James Oakes's ground-breaking recent study, Freedom National (W.W. Norton, 2013), and Oakes, who serves on the board of scholarly advisors for the House Divided Project, helped review the manuscript.
Pinsker promises that House Divided will seek out other short biographical projects from qualified, willing authors, covering any worthwhile American figure from the period 1840 to 1880.  "It is challenging –especially for young authors– to find publication outlets for such biographies today," observes Pinsker.  "Academic journals and presses are usually more interested in other subjects, and trade houses are too focused on the bottom line to see much value in the study of obscure figures.  We predict that historical biography will become a valuable new educational niche for free or low-cost e-books.  More important, we hope to contribute good material toward building that genre with a series of well-written, well-edited volumes.  Forgotten Abolitionist is the type of book that any high school or undergraduate student could read and enjoy, connecting it easily to survey narratives or to popular historical movies, like Spielberg's  "Lincoln" (2012), which sadly omitted Creswell, by the way."
Sunday, December 6, 2015 marks the 150th anniversary of the ratification of the Thirteenth Amendment.  It might be a good day to download a free copy of Forgotten Abolitionist.  This academic year (2015-16) also marks the 10th anniversary of the House Divided Project, which will be celebrated on campus from March 24-26, 2016.
Please submit query letters for new e-biography projects to hdivided@dickinson.edu (attention: Matthew Pinsker)