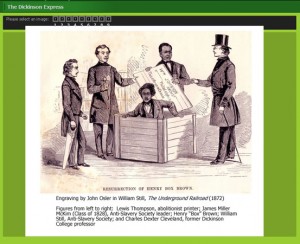 (Carlisle, PA, June 25, 2015) Today, the House Divided Project released an expanded online research guide for the Underground Railroad which includes links to dozens of highly rated sites.  Teachers and students can now explore primary source documents from the most active vigilance committees in cities like Boston, New York and Philadelphia.  They can explore first-rate scholarship, including several full-text essays, and they will be introduced to a wide variety of multi-media tools, including videos, interactive maps, and extensive image galleries.  Those interested in using the guide can access it at Project Director Matthew Pinsker's online Civil War course.
Pinsker will be teaching a special teacher seminar on the Underground Railroad for the Gilder Lehrman Institute of American History this summer in New York City, July 13-17, 2015.  You can find out more about the summer seminar program at the Gilder website.
Here is a snippet of the expanded online guide:
House Divided Project
PRIMARY SOURCES
Federal Laws and Codes
To see more, go to the Web Guides section of the Civil War undergraduate online course.