Standard: Kansas History
Benchmark 3: The student understands individuals, groups, ideas, events, and
developments of the territorial period and the Civil War in Kansas.
This student will:
1. explain the concept of popular sovereignty under the Kansas-Nebraska Act. 2. explain why control of the Kansas territorial government was affected by the fight over slavery. 3. describe the influence of pro-and anti-slavery ideas on territorial Kansas (e.g., Bleeding Kansas, border ruffians, bushwhackers, jay-hawkers, the Underground railroad, free state, abolitionist). 4. describe the causes and consequences of Quantrill's Raid on Lawrence during the Civil War
These are just parts of some of our 7th grade standards in Kansas for my unit I thought I would concentrate on the time period between the Kansas-Nebraska act and Quantrill's raid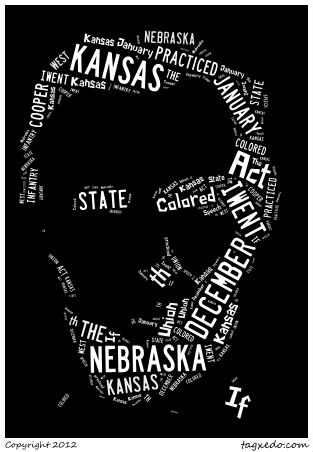 . 
William Clarke Quantrill
(1837-1865)
Leader of perhaps the most savage fighting unit in the Civil War, William Quantrill developed a style of guerrilla warfare that terrorized civilians and soldiers alike. Quantrill was born in 1837 in Ohio, but little is known of his early life. It appears that after being a schoolteacher for several years, he travelled to Utah in 1858 with an army wagon train and there made his living as a gambler, using the alias of Charles Hart. After a year, he moved to Lawrence, Kansas, where he was again a schoolteacher from 1859 to 1860. But his past and predisposition soon caught up with him and, wanted for murder and horse theft, Quantrill fled to Missouri in late 1860..
This is obviously a work in progress but my plan is to have two google maps one of Quantrill's entrance into Kansas from Missouri and of his masterful escape out of Kansas, the other would be a google map of Lawrence, ks and the location of the murders and destruction maybe even a virtual tour.