The natural liberty of man is to be free from any superior power on earth, and not to be under the will or legislative authority of man, but to have only the law of nature for his rule.
INTRODUCTION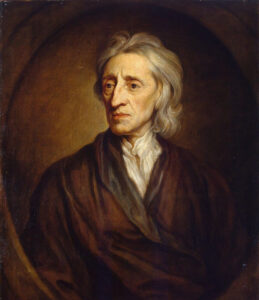 John Locke (1632-1704) was one of the Enlightenment era British political philosophers who had the greatest influence on the American revolutionaries.  Locke was a true polymath (someone with a wide range of knowledge) who trained as a physician, worked as a government official and wrote numerous works of philosophy and political theory.  Locke spent part of his career focused on British colonial affairs in North America.  He also survived a turbulent period in British political culture, including the English Civil War (1642-51) and the subsequent restoration of the monarchy, For a period, Locke lived precariously in exile in Holland.  This excerpt from Locke's Second Treatise covers chapters II through IV and was published after his return to England and following the Glorious Revolution (1688), which helped launch a period of stability in British government.  Locke's views in the Second Treatise extolled the importance of "natural liberty" or natural rights and how the consent of the governed was critical for legitimate rule, positions which later became hallmarks of the American revolutionary ideology.
SOURCE FORMAT:  Treatise or Book (excerpt)
WORD COUNT:  1,600 words
---
Excerpt from Locke's Second Treatise, read and produced by Jordyn Ney, '23

CHAPTER. II.  OF THE STATE OF NATURE.
Sect. 4. TO understand political power right, and derive it from its original, we must consider, what state all men are naturally in, and that is, a state of perfect freedom to order their actions, and dispose of their possessions and persons, as they think fit, within the bounds of the law of nature, without asking leave, or depending upon the will of any other man.
A state also of equality, wherein all the power and jurisdiction is reciprocal, no one having more than another; there being nothing more evident, than that creatures of the same species and rank, promiscuously born to all the same advantages of nature, and the use of the same faculties, should also be equal one amongst another without subordination or subjection, unless the lord and master of them all should, by any manifest declaration of his will, set one above another, and confer on him, by an evident and clear appointment, an undoubted right to dominion and sovereignty.
Sect. 5. This equality of men by nature, the judicious Hooker looks upon as so evident in itself, and beyond all question, that he makes it the foundation of that obligation to mutual love amongst men, on which he builds the duties they owe one another, and from whence he derives the great maxims of justice and charity: His words are,  The like natural inducement hath brought men to know that it is no less their duty, to love others than themselves; for seeing those things which are equal, must needs all have one measure; if I cannot but wish to receive good, even as much at every man's hands, as any man can wish unto his own soul, how should I look to have any part of my desire herein satisfied, unless myself be careful to satisfy the like desire, which is undoubtedly in other men, being of one and the same nature? To have any thing offered them repugnant to this desire, must needs in all respects grieve them as much as me; so that if I do harm, I must look to suffer, there being no reason that others should shew greater measure of love to me, than they have by me shewed unto them: my desire therefore to be loved of my equals in nature as much as possible may be, imposeth upon me a natural duty of bearing to them-ward fully the like affection; from which relation of equality between ourselves and them that are as ourselves, what several rules and canons natural reason hath drawn, for direction of life, no man is ignorant, Eccl. Pol. Lib. 1.
Sect. 6. But though this be a state of liberty, yet it is not a state of licence: though man in that state have an uncontroulable liberty to dispose of his person or possessions, yet he has not liberty to destroy himself, or so much as any creature in his possession, but where some nobler use than its bare preservation calls for it. The state of nature has a law of nature to govern it, which obliges every one: and reason, which is that law, teaches all mankind, who will but consult it, that being all equal and independent, no one ought to harm another in his life, health, liberty, or possessions: for men being all the workmanship of one omnipotent, and infinitely wise maker; all the servants of one sovereign master, sent into the world by his order, and about his business; they are his property, whose workmanship they are, made to last during his, not one another's pleasure: and being furnished with like faculties, sharing all in one community of nature, there cannot be supposed any such subordination among us, that may authorize us to destroy one another, as if we were made for one another's uses, as the inferior ranks of creatures are for our's. Every one, as he is bound to preserve himself, and not to quit his station wilfully, so by the like reason, when his own preservation comes not in competition, ought he, as much as he can, to preserve the rest of mankind, and may not, unless it be to do justice on an offender, take away, or impair the life, or what tends to the preservation of the life, the liberty, health, limb, or goods of another.
CHAPTER. III.  OF THE STATE OF WAR.
Sect. 16. THE state of war is a state of enmity and destruction: and therefore declaring by word or action, not a passionate and hasty, but a sedate settled design upon another man's life, puts him in a state of war with him against whom he has declared such an intention, and so has exposed his life to the other's power to be taken away by him, or any one that joins with him in his defence, and espouses his quarrel; it being reasonable and just, I should have a right to destroy that which threatens me with destruction: for, by the fundamental law of nature, man being to be preserved as much as possible, when all cannot be preserved, the safety of the innocent is to be preferred: and one may destroy a man who makes war upon him, or has discovered an enmity to his being, for the same reason that he may kill a wolf or a lion; because such men are not under the ties of the common law of reason, have no other rule, but that of force and violence, and so may be treated as beasts of prey, those dangerous and noxious creatures, that will be sure to destroy him whenever he falls into their power.
Sect. 17. And hence it is, that he who attempts to get another man into his absolute power, does thereby put himself into a state of war with him; it being to be understood as a declaration of a design upon his life: for I have reason to conclude, that he who would get me into his power without my consent, would use me as he pleased when he had got me there, and destroy me too when he had a fancy to it; for no body can desire to have me in his absolute power, unless it be to compel me by force to that which is against the right of my freedom, i.e. make me a slave. To be free from such force is the only security of my preservation; and reason bids me look on him, as an enemy to my preservation, who would take away that freedom which is the fence to it; so that he who makes an attempt to enslave me, thereby puts himself into a state of war with me. He that, in the state of nature, would take away the freedom that belongs to any one in that state, must necessarily be supposed to have a design to take away every thing else, that freedom being the foundation of all the rest; as he that, in the state of society, would take away the freedom belonging to those of that society or commonwealth, must be supposed to design to take away from them every thing else, and so be looked on as in a state of war.
CHAPTER. IV. OF SLAVERY.
Sect. 22. THE natural liberty of man is to be free from any superior power on earth, and not to be under the will or legislative authority of man, but to have only the law of nature for his rule. The liberty of man, in society, is to be under no other legislative power, but that established, by consent, in the commonwealth; nor under the dominion of any will, or restraint of any law, but what that legislative shall enact, according to the trust put in it. Freedom then is not what Sir Robert Filmer tells us, Observations, A. 55. a liberty for every one to do what he lists, to live as he pleases, and not to be tied by any laws: but freedom of men under government is, to have a standing rule to live by, common to every one of that society, and made by the legislative power erected in it; a liberty to follow my own will in all things, where the rule prescribes not; and not to be subject to the inconstant, uncertain, unknown, arbitrary will of another man: as freedom of nature is, to be under no other restraint but the law of nature.
Sect. 23. This freedom from absolute, arbitrary power, is so necessary to, and closely joined with a man's preservation, that he cannot part with it, but by what forfeits his preservation and life together: for a man, not having the power of his own life, cannot, by compact, or his own consent, enslave himself to any one, nor put himself under the absolute, arbitrary power of another, to take away his life, when he pleases. No body can give more power than he has himself; and he that cannot take away his own life, cannot give another power over it. Indeed, having by his fault forfeited his own life, by some act that deserves death; he, to whom he has forfeited it, may (when he has him in his power) delay to take it, and make use of him to his own service, and he does him no injury by it: for, whenever he finds the hardship of his slavery outweigh the value of his life, it is in his power, by resisting the will of his master, to draw on himself the death he desires.
Sect. 24. This is the perfect condition of slavery, which is nothing else, but the state of war continued, between a lawful conqueror and a captive: for, if once compact enter between them, and make an agreement for a limited power on the one side, and obedience on the other, the state of war and slavery ceases, as long as the compact endures: for, as has been said, no man can, by agreement, pass over to another that which he hath not in himself, a power over his own life.
I confess, we find among the Jews, as well as other nations, that men did sell themselves; but, it is plain, this was only to drudgery, not to slavery: for, it is evident, the person sold was not under an absolute, arbitrary, despotical power: for the master could not have power to kill him, at any time, whom, at a certain time, he was obliged to let go free out of his service; and the master of such a servant was so far from having an arbitrary power over his life, that he could not, at pleasure, so much as maim him, but the loss of an eye, or tooth, set him free, Exod. xxi.
CITATION:  John Locke, Second Treatise on Government , chapters II-IV (1689),FULL TEXT via Project Gutenberg
---
DISCUSSION QUESTIONS
Locke's assertion that "the natural liberty of man is to be free from any superior power" clearly rejects slavery in the context of a monarchy. However, Locke doesn't specify if the right to freedom extends to all men including African and Native Americans. Is this a deliberate
omission given his setting? (Etsub Taye, Summer 2021)
In section 16, Locke writes, "I should have a right to destroy that which threatens me with destruction." Does this mean that Locke would have supported an American slave uprising? (Kati Shanaman, Summer 2021)
When Locke quoted another scholar  writing,  "for direction of life, no man is ignorant," was he trying to state that humans are by nature always justified in their actions? (Yari Cordero Rodriguez, Summer 2021)
FURTHER READING
Two thousand years of thinking about politics in the West is overturned in Locke's writings, as the liberal state repudiates the classical and Christian vision of politics. –Isaac Kramnick
Lecture from Yale Professor Stephen Smith