Augmented Reality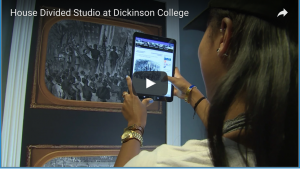 Recreate the multi-media experience of the House Divided Studio by using Aurasma from HP to launch free, image-recognition augmented reality (AR) from the PDFs of our exhibit panels.  It's very easy to use Aurasma.  Here are the five key steps:
Just go to your App Store or Google Play and download the app (it's free).
Then sign up (also free) and follow the House Divided Project channel (always free).
Print out some of our PDFs below or our main project handout here.
Now, you're ready to go.  Just open the app, click on the purple viewer at the bottom of your device screen (note: tablets or phones only) and point your camera at the print-outs (maybe spread around your classroom on bulletin boards).  Within 2-3 seconds, the image-recognition should kick in and you or your students will see related videos, web links and other multi-media content designed to enhance your 21st-century learning experience.
Please note that videos will launch right away, but web links appear first as overlays that you will need to click to activate.  Clicking on the videos will also activate them at YouTube.
Key Figures
Featured Stories
Coming Soon –19th-Century Dickinson College History
Dickinson in the House Divided Era
Dickinson and Lincoln
Dickinson and Global Education
Build Your Own Augmented Reality Projects
Check out our tutorial on how to make your own AR projects in Aurasma, produced by Sarah Goldberg (Class of 2019).