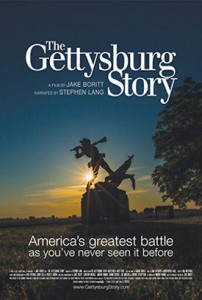 Noted filmmaker Jake Boritt is coming to Carlisle on Wednesday, May 7, 2014 for a special free public showing and discussion of his latest film, "The Gettysburg Story," a state-of-the-art documentary about the pivotal Civil War battle narrated by actor Stephen Lang.  What makes this film especially unique and cutting-edge is Boritt's use of high-definition camera-enabled drone aircraft.  His innovative project quite literally depicts the 1863 battlefield from a perspective that you have never seen before. You will be amazed at the visual spectacle and fascinated by Boritt's discussion of how 21st-century technology helped bring to life this classic 19th-century American story.
Event details:
Film:  "The Gettysburg Story" by Jake Boritt
Date:  Wednesday, May 7, 2014
Location:  Dickinson College campus, Althouse 106
Parking:  Available nearby on either W. High or W. Louther Streets
Length:  60 minutes followed by Q&A with director
Cost:  Free  (suitable for all ages and open to the public)

The Gettysburg Story Preview from Jake Boritt on Vimeo.