At the recent unveiling of the House Divided project, held June 13th at Dickinson College, Pullitzer prize-winning author and Civil War historian Mark Neely spoke on party politics during the 1850s. He also allowed us a brief interview, during which time we were able to get his impression on Sherman's March to the Sea and its implication as an example of 'total war.' While Professor Neely does not agree that the March was 'total war' in a modern sense, Sherman used some of the fiercest tactics yet seen during the war. Indeed, Sherman hoped to have the South "…begging for mercy…" at the conclusion of his march.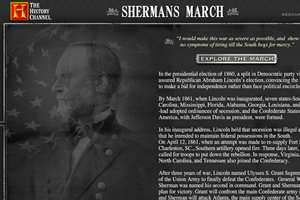 This History Channel website provides an interactive map, complete with audio and images, detailing the three campaigns of Sherman's march. Principal battles of the campaigns and other events are explained, and factoid boxes provide information on little known tactics, events or other interesting things about the March to the Sea.
An interesting, thoroughly 21st century tech exploration of this crucial military movement.