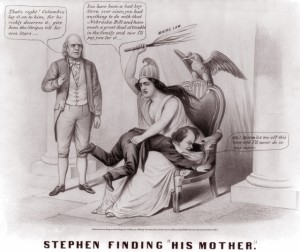 Louis Maurer mocked presidential candidate Stephen Douglas in the cartoon "Stephen Finding His Mother." Through the months leading up to the election in late 1860, Douglas engaged in an unprecedented national campaign tour. In response to critics of his new vote-gathering methods, he falsely claimed to visit his mother when he lead his tour through New York and New England. Using this story as the basis for the cartoon, Maurer shows Columbia as Douglas' "mother" who, at the urging of Uncle Sam, punishes him for dividing Democrats and bringing scorn from Republicans. She uses a branch labeled the "Maine Law," a possible reference to Maine's 1851 temperance law, to "give him the Stripes till he sees Stars."
By 1860 Stephen Douglas had encountered criticism despite his great achievements in Congress. Maurer's cartoon, though immediately drawing from Douglas' "mother" story, connected with other issues. Douglas had begun alienating himself from Southern Democrats as an opponent to the extension of slavery. Critics also cited his close association with the Kansas-Nebraska Act, which determined the extension of slavery based on a state's majority vote. Though the Act promised the success of this "popular sovereignty" within Kansas and Nebraska, it soon backfired and brought even more tension and violence to the states.
Robert W. Johannsen wrote a leading biography entitled Stephen A. Douglas. The book, available for partial view on Google Books, provides closer analyses of Douglas through the campaign of 1860.