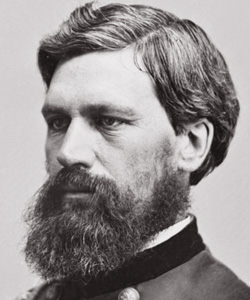 When he was fifteen years old—before his right arm was shattered at Fair Oaks, before he saw action at Antietam and Chancellorsville and Gettysburg and Chattanooga, before he marched to the sea with Sherman—General Oliver Otis Howard faced the the trial of his life: the entrance examination for Bowdoin College.  "I have passed though many ordeals since then," he wrote in his autobiography, "but I do not think that any of them impressed me more than that preliminary examination."
Howard passed the examination, on the condition that he work on his scansion of Greek and Latin poetry—that is, his ability to read the poetry aloud in the proper meter.
Like most college-bound boys in the nineteenth century, Howard had attended a private academy offering a college preparatory course that emphasized Greek, Latin, and mathematics.  Until late in the nineteenth century, proficiency in Greek and Latin was a requirement for admission to college.  The Dickinson College statutes for 1830, for example, specified that "applicants for admission into the Freshman class, must be approved by the Faculty, on an examination in Latin, in Caesar's Commentaries, the Orations of Cicero against Catiline, and the first four books of Virgil's Aeneid: in Greek, on the Gospel of John, and Dalzell's Collectanea Minora [an anthology]: and in Arithmetic as far as the Double Rule of Three."
O. O. Howard was prepared for Bowdoin at the North Yarmouth Classical Academy, where the headmaster was Allen H. Weld, author of the popular Latin textbook Latin Lessons and Reader (1845).  Weld's career in many ways illustrates the evolution of education in America in the nineteenth century from predominantly private to predominantly public education.  Born in Braintree, Vermont, in 1809, Weld graduated from Yale and began his career teaching in private academies like North Yarmouth, where he served as headmaster from 1837 to 1848. It was during this period that the common school movement—the movement toward universal public education—began to gain traction under the leadership of Horace Mann.  In 1858, Weld moved west, to Wisconsin, where he became the superintendent of the public schools in St. Croix County, and in 1874 was intrumental in establishing  the state normal school, or public school teacher's college, in River Falls (now the University of Wisconsin—River Falls).