A New York Historical Society exhibit that opened last month provides visitors with a variety of Lincoln-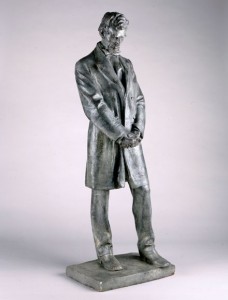 related documents and items. Entitled "Abraham Lincoln in His Own Words," the exhibit features such items as a draft of the "House Divided" speech, an encouraging telegram to General Ulysses S. Grant, and other papers, letters, and original documents from all periods of Lincoln's life. In addition to documents attributed to Lincoln are other period objects including photographs, testimonies, and sculptures. A full description of the exhibit can be found on the New York Historical Society's webpage.
Also, according to a NY Times article, the Smithsonian Museum of American History has answered an age-old question regarding one Lincoln artifact; his gold pocket watch. According to the article, a secret message was engraved within the watch by watchmaker Jonathan Dillon when he repaired it in 1861. Part of the watch's inscription reads "Jonathan Dillon April 13- 1861 Fort Sumpter was attacked by the rebels on the above date."
Although this find is not a radical discovery by any means, it is another addition to Abraham Lincoln lore and can only make us wonder as to what other interesting and peculiar things can be discovered from the Civil War era, even after almost 150 years.