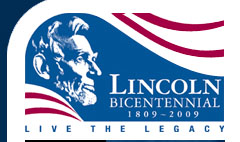 Don't miss the Lincoln Bicentennial National Teach-In on February 12, 2009 at 1:30pm (EST).
House Divided co-director and Dickinson College Professor Matthew Pinsker, Lincoln Bicentennial co-chair Harold Holzer, and Doris Kearns Goodwin (Team of Rivals) will discuss the life and legacy of Abraham Lincoln during a live webcast available at this site: http://www.history.com/lincoln
The Lincoln Bicentennial Commission has more information about this event and the participants.
Two questions to consider before the webcast –
What can we learn from Lincoln?
What should we be doing to honor his 200th birthday?