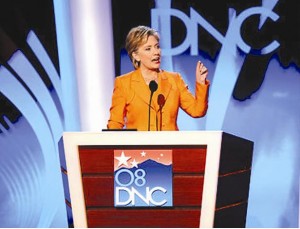 The New York Times reports that some noted scholars such such as Milton Sernett and Kate Larson have questions about the authenticity of a moving quotation from Harriet Tubman used by Hillary Clinton in her recent speech to the Democratic National Convention.
"If you hear the dogs, keep going. If you see the torches in the woods, keep going. If there's shouting after you, keep going. Don't ever stop. Keep going. If you want a taste of freedom, keep going."
It turns out that although many authors and even the Harriet Tubman House in Auburn, NY have used this passage from Tubman, both Sernett and Larson, leading Tubman scholars, doubt its veracity and trace its origins to a twentieth-century children's book.  A spokesman for Senator Clinton says that from now on she will only use the passage in paraphrase.