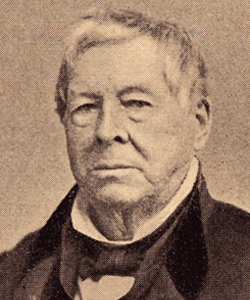 Abolition in the United States, like in Great Britain, had religious inspirations. Some of the first and most outspoken abolitionists were members of the religious Society of Friends, or Quakers. Benjamin Lay addressed the Yearly meeting of Quakers on the subject of abolishing slavery as early as 1738. Quakers continued their support for abolition throughout the nineteenth century, an example found prominently in Thomas Garrett, a Quaker merchant who helped countless escaped slaves to freedom as a "stationmaster" on the Underground Railroad. In Great Britain, evangelical Anglicans John Newton, Thomas Clarkson among others pressured Parliament for the abandonment of the slave trade. Abolitionism on both sides of the Atlantic carried a religious dimension that should not be ignored in any study of the movement.
In his blog, "Underground Railroad: Myth & Reality," Fergus Bordewich explores the religious roots of the antislavery movement. Bordewich points to the Great Awakening as a main catalyst for growth of antislavery sentiment.
The National Humanities Center presents an essay on the topic of religion and antislavery movements as well. The essay by Bertram Wyatt-Brown goes into greater detail than Bordewich's blog post, includes a classroom discussion guide, and a brief bibliography. Wyatt-Brown writes with a teacher audience in mind. The essay serves as much to introduce and explore the connection between abolition and religion as to provoke discussion and provide teacher resources. Certainly a worthwhile resource.
Wyatt-Brown's essay is part of a larger TeacherServe webpage provided by the National Humanities Center. Additional essays on religion in America are provided, along with essays and materials exploring the environment in American history, and teaching African American history.