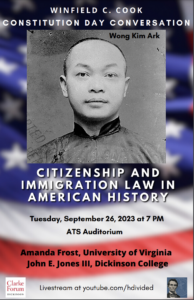 To commemorate Constitution Day in 2023, Dickinson College will feature President John E. Jones III, a retired federal judge, in a wide-ranging constitutional conversation with noted legal historian Amanda Frost from the University of Virginia. Jones and Frost will discuss how various landmark cases and developments from the American past have helped shape several recent controversies in citizenship and immigration law. This program is sponsored by the House Divided Project and the Clarke Forum for Contemporary Issues.
The conversation will take place on Tuesday, September 26, 2023 from 7pm to 815pm in the ATS auditorium on the Dickinson College campus. The first 40 students who arrive at ATS will receive a free signed copy of Frost's recent book: You Are Not American: Citizenship Stripping from Dred Scott to the Dreamers (Beacon Press, 2021).
---
---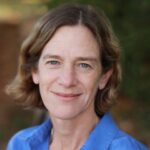 Amanda Frost is the John A. Ewald Jr. Research Professor of Law at the University of Virginia School of Law. She writes and teaches in the fields of immigration and citizenship law, federal courts and jurisdiction, and judicial ethics. Her scholarship has been cited by over a dozen federal and state courts, and she has been invited to testify on the topics of her articles before both the House and Senate Judiciary Committees. Her most recent book, You Are Not American: Citizenship Stripping from Dred Scott to the Dreamers (Beacon Press, 2021) was named as a "New & Noteworthy" book by The New York Times Book Review and was shortlisted for the Mark Lynton History Prize. Her non-academic writing has been published in The Atlantic, The New Republic, The Washington Post, The New York Times, Slate, USA Today and The American Prospect, and she authors the "Academic Round-up" column for SCOTUSblog. Prior to joining UVA Law, Frost was a law professor at American University. She is a member of the Advisory Committee for the Thaddeus Stevens & Lydia Hamilton Smith Center for History and Democracy; the Consultative Group, "Nationwide Injunctions and Federal Regulatory Programs," Administrative Conference of the United States; the editorial board of Oxford University's Border Criminologies; an Academic Fellow at the Pound Civil Justice Institute; and a member of the National Constitution Center's Coalition of Freedom Advisory Board.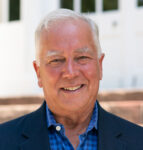 John E. Jones III '77, P'11, was officially named the college's 30th president on Feb. 28, 2022. He was named interim president of Dickinson in summer 2021. Jones previously served as chair of Dickinson's board of trustees and retired as chief judge of the U.S. Middle District Court of Pennsylvania, a position to which he was appointed by President George W. Bush and unanimously confirmed by the United States Senate in 2002. Jones has presided over a number of high-profile cases, including the landmark case of Kitzmiller v. Dover School District, after which he held that it was unconstitutional to teach intelligent design within a public school science curriculum. He also resolved the matter of Whitewood v. Wolf by striking down as unconstitutional Pennsylvania's ban on same-sex marriage. Jones co-chaired Pennsylvania Governor-elect Tom Ridge's transition team and served as chair of the Pennsylvania Liquor Control Board. Jones has received numerous accolades during his career. In 2006, Time Magazine named him as one of its Time 100 most influential people in the world. He was the recipient of the first John Marshall Judicial Independence Award given by the Pennsylvania Bar Association. He also received the Geological Society of America's President's Medal and was inducted into the George Washington Spirit Society. An engaged alumnus and champion of the liberal arts, Jones was presented with an honorary doctorate in law and public policy from Dickinson College, where he also was recognized as one of the 25 most influential graduates in the college's history. Born and raised in Schuylkill County, Pennsylvania, he is a graduate of Mercersburg Academy, Dickinson College and Penn State Dickinson Law. He and his wife Beth have two children, Meghan and John '11, and three grandchildren.
---
Additional Resources
Constitution Day commemorates the signing of the US Constitution on September 17, 1787. John Dickinson was one of the signers, though he was not present that day. For more background and helpful teaching resources, see these materials from the National Constitution Center in Philadelphia.