(Carlisle, PA) On Thursday, April 25, 2019, acclaimed author Steve Luxenberg will be speaking at the ATS auditorium (7pm) at Dickinson College on his new and highly anticipated book, Separate: The Story of Plessy v. Ferguson, and America's Journey from Slavery to Segregation (W.W. Norton, 2019). Book signing will follow. This event is free and open to the general public and is being sponsored by the following department or programs at Dickinson: Esther Popel Shaw Center for Race & Ethnicity, History, House Divided Project, and Policy Studies.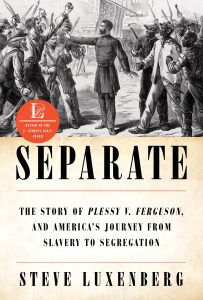 Homer Plessy was the plaintiff in the case, a mixed race resident of New Orleans, Louisiana who was arrested in 1892 for riding in the whites-only section of a local railroad car. In Separate, Luxenberg details how a civil rights group called the Citizens Committee of New Orleans had identified Plessy as a figure who could help them challenge some of the segregation laws of the post-Reconstruction era South on the basis of the equal protection clause of the Fourteenth Amendment (1868) and the promise of equality inherent in the Thirteenth Amendment (1865), which had abolished slavery. Plessy and the Citizens Committee lost in state courts (before Judge John Ferguson) and eventually appealed to the US Supreme Court which also ruled against them in 1896. They lost that appeal in a 7-1 verdict which held that the "equal but separate" accommodations did not somehow violate the constitutional promise of equality from the Fourteenth Amendment –a decision that stood for nearly sixty years until it was finally overturned by Brown v. Board of Education (1954).
In his recent review of the book for the Washington Post, noted historian Eric Foner praises Luxenberg's story-telling as offering a "vivid account" of the landmark case, while also noting its somber message. "Separate reminds us that our history is not simply a narrative of greater and greater freedom," Foner observed, "Rights can be gained, and rights can be taken away."
STEVE LUXENBERG is an associate editor at The Washington Post and an award-winning author. During his forty years as a newspaper editor and reporter, Steve has overseen reporting that has earned many national honors, including two Pulitzer Prizes. His new nonfiction book, Separate: The Story of Plessy v. Ferguson, and America's Journey from Slavery to Segregation, was published in February to rave reviews. James Goodman, in The New York Times Book Review, wrote: "Absorbing….so many surprises, absurdities and ironies….Segregation is not one story but many. Luxenberg has written his with energy, elegance and a heart aching for a world without it." As a work in progress, Separate won the 2016 J. Anthony Lukas Award for excellence in nonfiction writing.