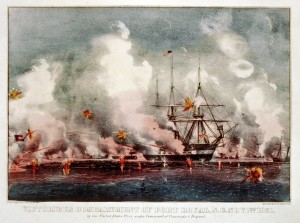 In its inaugural issue published on March 15, 1862 the
New South
, a weekly periodical with Northern sympathies, described the Union capture of Port Royal, South Carolina on November 7, 1861 as a "brisk little engagement with the enemy at Port Royal Ferry, in which the National forces, both Army and Navy manifested pluck and coolness the most desirable qualities in soldier's or sailors." This newspaper, which was highlighted in a p
revious post
, documents life in occupied Port Royal through 1866 and is available
online
.  As part of Union efforts to enforce the executive-mandated blockade on the South,
Captain Samuel F. Du Pont
, commander of the South Atlantic Blockading Squadron was sent to Port Royal, South Carolina where he helped capture Fort Walker and Fort Beauregard in the largest combined naval and military operation up to that point. The Civil War Blockade Strategy Board met during the summer of 1861 created a series of
reports
that informed the Union's naval blockading strategy including Du Pont's attack on Port Royal.  Matthew Parker made these reports fully available on "
Thomas Legion
" a website that organizes Civil War primary documents for easy research.  Other useful resources include the Library of Congress's
visual time line
of the Civil War, which contains a
collection of photographs
from Port Royal, South Carolina from 1861 to 1865, a
detailed essay
on the battle of Port Royal, which appeared in the January 2001 issue of
America's Civil War
.