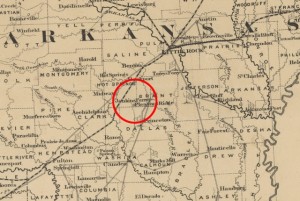 The Battle of Jenkins' Ferry took place in Grant county, Arkansas on April 30, 1864 as Confederate forces attempted to Union General Frederick Steele's forces retreated across the Saline River. While Confederates attacked several times, they could not stop Steele's men from crossing the river with their supplies. Andrew F. Sperry, who served with the 33rd Iowa Infantry Regiment, described the battle after the war:
"The conflict was terrible to experience, but brief to tell. Seven mortal hours, with such fierce vigor and determination that the fire of musketry became one undistinguishable and unbroken roar. Charge after charge was made by the yelling rebels, only to be broken upon our line, or if possibly succeeding for a moment, to give way at last to a charge of still deeper and more deadly determination from our own brave men."
Confederates "forgot…the valor of Steele's soldiers," as another Union veteran explained. Some estimates put the total number of casualties 964 (Union 521, CSA 443), including several Union and Confederate generals – Samuel Rice, Horace Randal, and William Scurry. Randal and Scurry were, as Confederate General Gen. William R. Boggs observed, "two of our best officers." Confederates could have destroyed Steele's army, but were unable to take advantage of the opportunity. Joseph Blessington, who served in Walker's Texas Division, believed that
"Had General Walker received reinforcements when he asked for them, he would have destroyed the enemy, and perhaps have captured their entire army. Attacked in front, on the flank, and in the rear, they could not possibly have escaped; and if they did escape, it would be with the loss of thousands of prisoners, and all his artillery and wagons, while the field would have been strewed with his dead."
Teachers can find an overview of this battle and several pictures at the Jenkins' Ferry State Park website.