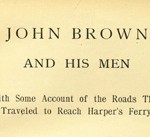 "Slavery & Abolition in the US: Select Publications of the 1800s," a digital collection from Dickinson College and Millersville University, has several important resources on the Harpers Ferry raid. James Redpath, a reporter who strongly supported abolitionists, published The Public Life of Capt. John Brown in April 1860. Redpath, who first met Brown in Kansas, "[became] an avid promoter of the John Brown legend" as historian David Reynolds explains. (He also published Echoes of Harpers Ferry in 1860, which you can find on Google Books). Franklin B. Sanborn was one of the "secret six," who provided Brown with financial assistance during the 1850s, and he published The Life and Letters of John Brown, Liberator of Kansas, and Martyr of Virginia in 1885. Also available is abolitionist Richard J. Hinton's John Brown and His Men; With Some Account of the Roads Traveled to Reach Harper's Ferry (1894). Hinton met Brown in Kansas when he became involved in the fight against slavery.
The Samuel J. May Anti-Slavery Collection at Cornell University also has material on Brown's raid, including Osborne P. Anderson's account – Voice from Harper's Ferry (1861). Anderson, who was born to a free black family in Pennsylvania and attended Oberlin College, was the only African American who was not captured during the attack. The site also includes other biographies and several sermons (George Cheever – Nov. 6, 1859; James Clarke – Nov. 6, 1859; John Gregory – Dec. 4, 1859; Nathaniel Colver – Dec. 11, 1859).
You can also learn more about some of these authors on the People tab of the Harpers Ferry major topic in House Divided.