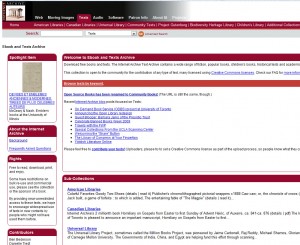 The Texts section of the Internet Archive is a great resource for primary sources as they provide free access to books in the public domain that would not be in most library collections. This non-profit organization has partnered with a number of institutions, including Duke University Libraries, the Library of Congress, the Smithsonian Institution Libraries, and the University of California Libraries, to scan books in their collections. While some tips are listed below, you can find more information on their FAQ page.
Using the Internet Archive
Browse/Search by Collection – Try browsing or searching by collection to

get an idea as to what is available on this site. "American Libraries" and "Children's Library" highlight some of the best books on their collections front page.

Search Options – Select the relevant collection or sub-collection from the drop down menu
Sort Results By – Several options are available; try sorting by "Download count" or "Average rating" to get the best or highest quality digital version
Book Contributor – This site can have multiple versions of some books, such as Uncle Tom's Cabin. If a particular version has a problem (i.e. poor image quality), look for another copy uploaded by different contributor.
View the Book – While several viewing options are available, "Read Online" and "Full Text" are the easiest to use since extra programs or browser plugins are not required.
Short, Stable URL – Use the URL from a book's detail page.
Recommended Sources
Have you found any sources that have been particularly helpful or interesting? Let us know!