Third Debate with Douglas (September 15, 1858)
Ranking
#28 on the list of 150 Most Teachable Lincoln Documents
Annotated Transcript
"There is very much in the principles that Judge Douglas has here enunciated that I most cordially approve, and over which I shall have no controversy with him."
Audio Version
On This Date
HD Daily Report, September 15, 1858
The Lincoln Log, September 15, 1858
Custom Map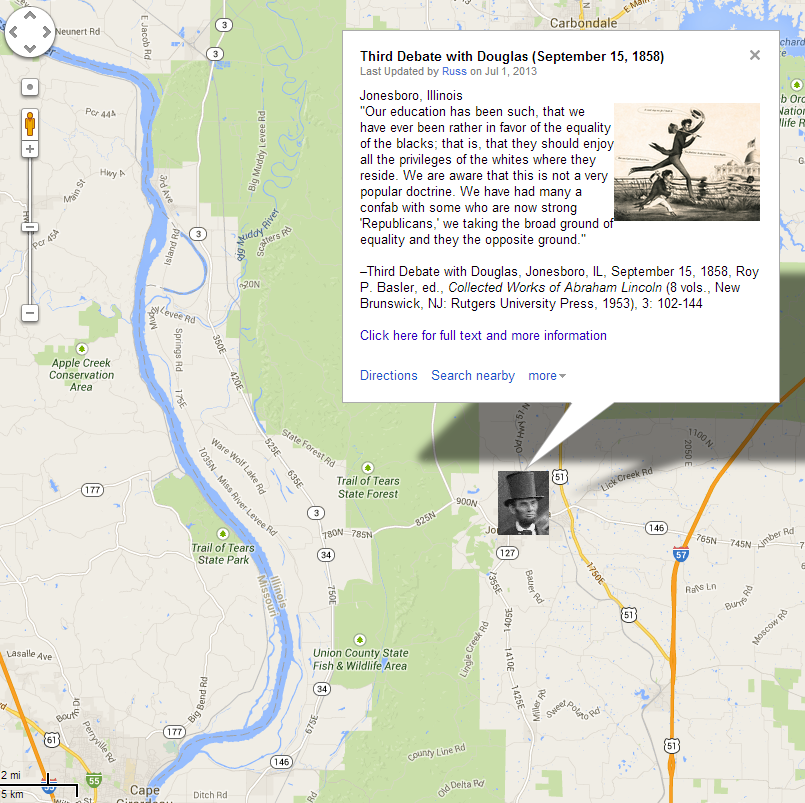 How Historians Interpret
"When Lincoln began his reply, he was 'evidently embarrassed by the apparent uniform democratic hue of his audience.' A faint cheer arose, 'followed by derisive laughter from the Douglas men, and solemn silence from the 'Danites.'' Lincoln's backers 'took courage from this and burst into a loud cheer, which for the first time satisfied the statesmen on the platform, that matters were not all one way.' Lincoln 'proceeded in his accustomed sincere, earnest and good-humored way to present his side of the case.'  At first he was unimpressive, for 'he began his address in a high-pitched, treble voice, all out of proportion to his massive head and frame, and accompanied it with rather an awkward carriage and gesture.'  One observer noted that 'he got around about as gracefully as a woman climbs a rail fence,' but another recalled that 'as he warmed into his subject, I became unconscious of his appearance and his voice in the realization that I was listening to a wonderful message from a great soul.'"
—Michael Burlingame, Abraham Lincoln: A Life (2 volumes, originally published by Johns Hopkins University Press, 2008) Unedited Manuscript By Chapters, Lincoln Studies Center, Volume 1, Chapter 13 (PDF), pp. 1415
"To his credit, Lincoln did not use his rebuttal to play to the prejudices of his listeners. He acknowledged that the audience contained few 'political friends,' but addressed the crowd respectfully as 'intelligent people.' He denied that he had every made a compact with cronies over mutual support for Senate seats. And he argued that Douglas's popular sovereignty position was no longer viable under the Dred Scott ruling which made it impossible legally to bar slavery from new territories. Calling up ghosts of the heroes of the Revolution—still a potent political weapon in 1858—Lincoln asserted that the nation's founders had laced slavery 'on the course of the ultimate extinction.' Douglas, he declared, was not thwarting their intentions. And he turned the tables on Douglas's charges of 'Black Republican' abolitionist conspiracies by citing efforts by Illinois Democrats, some of whom Douglas had supported for election, to prevent the spread of slavery too."
—The Lincoln-Douglas Debates: The First Complete Unexpurgated Text, Ed. Harold Holzer, (New York: Fordham University Press, 2004), 138.
NOTE TO READERS
This page is under construction and will be developed further by students in the new "Understanding Lincoln" online course sponsored by the House Divided Project at Dickinson College and the Gilder Lehrman Institute of American History. To find out more about the course and to see some of our videotaped class sessions, including virtual field trips to Ford's Theatre and Gettysburg, please visit our Livestream page at http://new.livestream.com/gilderlehrman/lincoln
Searchable Text
LADIES AND GENTLEMEN: There is very much in the principles that Judge Douglas has here enunciated that I most cordially approve, and over which I shall have no controversy with him. In so far as he has insisted that all the States have the right to do exactly as they please about all their domestic relations, including that of slavery, I agree entirely with him. He places me wrong in spite of all I can tell him, though I repeat it again and again, insisting that I have no difference with him upon this subject. I have made a great many speeches, some of which have been printed, and it will be utterly impossible for him to find any thing that I have ever put in print contrary to what I now say upon this subject. I hold myself under constitutional obligations to allow the people in all the States, without interference, direct or indirect, to do exactly as they please, and I deny that I have any inclination to interfere with them, even if there were no such constitutional obligation. I can only say again that I am placed improperly-altogether improperly, in spite of all I can say-when it is insisted that I entertain any other view or purposes in regard to that matter.
While I am upon this subject, I will make some answers briefly to certain propositions that Judge Douglas has put. He says, "Why can't this Union endure permanently, half slave and half free?" I have said that I supposed it could not, and I will try, before this new audience, to give briefly some of the reasons for entertaining that opinion. Another form of his question is, "Why can't we let it stand as our fathers placed it?" That is the exact difficulty between us. I say, that Judge Douglas and his friends have changed them from the position in which our fathers originally placed it. I say, in the way our fathers originally left the slavery question, the institution was in the course of ultimate extinction, and the public mind rested in the belief that it was in the course of ultimate extinction. I say when this Government was first established, it was the policy of its founders to prohibit the spread of slavery into the new Territories of the United States, where it had not existed. But Judge Douglas and his friends have broken up that policy, and placed it upon a new basis by which it is to become national and perpetual. All I have asked or desired any where is that it should be placed back again upon the basis that the fathers of our Government originally placed it upon. I have no doubt that it would become extinct, for all time to come, if we but readopted the policy of the fathers by restricting it to the limits it has already covered-restricting it from the new Territories.
I do not wish to dwell at great length on this branch of the subject at this time, but allow me to repeat one thing that I have stated before. Brooks, the man who assaulted Senator Sumner on the floor of the Senate, and who was complimented with dinners, and silver pitchers, and gold-headed canes, and a good many other things for that feat, in one of his speeches declared that when this Government was originally established, nobody expected that the institution of slavery would last until this day. That was but the opinion of one man, but it was such an opinion as we can never get from Judge Douglas or anybody in favor of slavery in the North at all. You can sometimes get it from a Southern man. He said at the same time that the framers of our Government did not have the knowledge that experience has taught us-that experience and the invention of the cotton-gin have taught us that the perpetuation of slavery is a necessity. He insisted, therefore, upon its being changed from the basis upon which the fathers of the Government left it to the basis of its perpetuation and nationalization.
I insist that this is the difference between Judge Douglas and myself-that Judge Douglas is helping that change along. I insist upon this Government being placed where our fathers originally placed it.