Contributing Editors for this page include Andrew Villwock
Ranking
#150 on the list of 150 Most Teachable Lincoln Documents
Annotated Transcript
"I happen temporarily to occupy this big White House." 
On This Date
HD Daily Report, August 22, 1864
The Lincoln Log, August 22, 1864
Close Readings
Posted at YouTube by "Understanding Lincoln" participant Andrew Villwock, Fall 2013 with transcript available here
Custom Map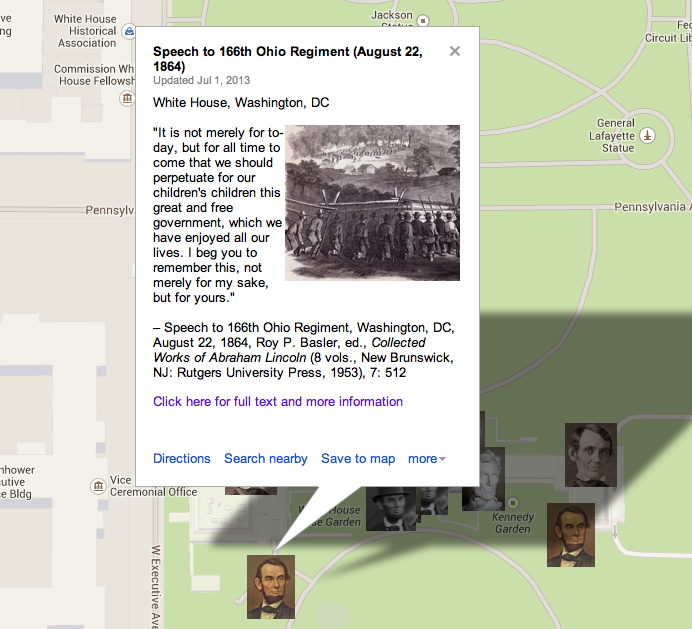 View in Larger Map
How Historians Interpret
"A few days thereafter, Lincoln told another Ohio regiment: 'I almost always feel inclined, when I happen to say anything to soldiers, to impress upon them in a few brief remarks the importance of success in this contest. It is not merely for to-day, but for all time to come that we should perpetuate for our children's children this great and free government, which we have enjoyed all our lives. I beg you to remember this, not merely for my sake, but for yours. I happen temporarily to occupy this big White House. I am a living witness that any one of your children may look to come here as my father's child has. It is in order that each of you may have through this free government which we have enjoyed, an open field and a fair chance for your industry, enterprise and intelligence; that you may all have equal privileges in the race of life, with all its desirable human aspirations. It is for this the struggle should be maintained, that we may not lose our birthright – not only for one, but for two or three years. The nation is worth fighting for,nto secure such an inestimable jewel.' These brief, informal addresses rank among the best of Lincoln's spontaneous utterances and give the lie to critics who disparaged his ability to address the public without a prepared text."
–Michael Burlingame, Abraham Lincoln: A Life (2 volumes, originally published by Johns Hopkins University Press, 2008) Unedited Manuscript by Chapter, Lincoln Studies Center, Volume 2, Chapter 34 (PDF), 3802.
"Lincoln made this emotional speech to a regiment of battle-weary soldiers on their way home after concluding their army service. The speech was published in the press the following day."
–Mario M. Cuomo and Harold Holzer, eds.,  Lincoln on Democracy (New York: Fordham University Press, 2004), 328.
NOTE TO READERS
This page is under construction and will be developed further by students in the new "Understanding Lincoln" online course sponsored by the House Divided Project at Dickinson College and the Gilder Lehrman Institute of American History. To find out more about the course and to see some of our videotaped class sessions, including virtual field trips to Ford's Theatre and Gettysburg, please visit our Livestream page at http://new.livestream.com/gilderlehrman/lincoln
Searchable Text
I suppose you are going home to see your families and friends. For the service you have done in this great struggle in which we are engaged I present you sincere thanks for myself and the country. I almost always feel inclined, when I happen to say anything to soldiers, to impress upon them in a few brief remarks the importance of success in this contest. It is not merely for to-day, but for all time to come that we should perpetuate for our children's children this great and free government, which we have enjoyed all our lives. I beg you to remember this, not merely for my sake, but for yours. I happen temporarily to occupy this big White House. I am a living witness that any one of your children may look to come here as my father's child has. It is in order that each of you may have through this free government which we have enjoyed, an open field and a fair chance for your industry, enterprise and intelligence; that you may all have equal privileges in the race of life, with all its desirable human aspirations. It is for this the struggle should be maintained, that we may not lose our birthright—not only for one, but for two or three years. The nation is worth fighting for, to secure such an inestimable jewel.