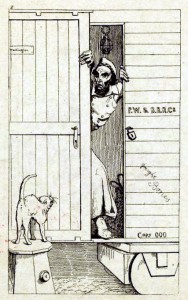 The 150th anniversary of President-Elect Lincoln's tense arrival in Washington has provoked several evocative blog posts.
Ted Widmer, director of the John Carter Brown Library at Brown University, provides a comprehensive decscription about Lincoln's travels for the "Disunion" blog at the New York Times. Through several posts (see especially 2/10, 2/21 and 2/22) Widmer traces the route from Springfield to Washington and illustrates the ups and downs of the emotional journey. Though Lincoln never wrote about this trip, his secretary John Nicolay conveyed the following:
"It is hard for anyone who had not had the chance of personal observation to realize the mingled excitement and apprehension, elation and fatigue which Mr. Lincoln… underwent… during this memorable trip from Springfield to Washington."
Historian Harold Holzer also authored a vivid post for "Disunion" on the anniversary of the President-Elect's arrival in Washington. Holzer gathers inspiration from the close parallels between Lincoln's trip and President Obama's recent pre-inaugural journey. However, he says, "Most Americans overlooked a critical historical irony." President-elect Obama enjoyed record-breaking crowds on the way to his inauguration while president-elect Lincoln was met by a single friend. "Lincoln made the final leg of his journey in total secrecy," Holzer writes, "in the dead of night, disguised to avoid detection and at one point sleeping near a woman who was not his wife."
In a news feature by Brady Dennis re-posted within their own Civil War blog series, The Washington Post compares the nation's capital from 1860 to city it is today.  See  "President-elect Lincoln arrived to a less-than-monumental Washington."
Lincoln re-enactor Fritz Kelin actually took the train ride again from Springfield to Washington.  See the article "Abraham Lincoln"  here with a funny video account here.