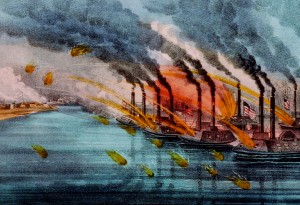 On February 6, 1862, Union Brigadier General Ulysses S. Grant and Union Flag Officer Andrew Hull Foote scored the first major victory for the Union Army in the Western Theater in the battle of Fort Henry along the Tennessee River near Stewart County and Henry County, Tennessee and Calloway County, Kentucky. Inundated by recent rain and flood water, the poorly conceived and outdated fort was defended by Confederate Brigadier General Lloyd Tilghman and just over 3000 Confederate soldiers. Grant and his 15,000 Union troops surrounded the fort while Foote and his seven gunboats began bombarding the fort. Foote and the Union's naval power proved decisive as Tilghman surrendered before Grant's soldiers even reached the fort. Estimated casualties for the battle were low with only 40 for the Union Army and just 80 for the Confederates. The victory at Fort Henry gave the Union Army access to the Tennessee River, a major water highway into the heart of the Confederate Deep South.  In Ulysses S. Grant's Civil War memoirs, he comments on the strategic importance of the capture of Fort Henry:
"With Fort Henry in our hands we had a navigable stream open to us up to Muscle Shoals, in Alabama. The Memphis and Charleston Railroad strikes the Tennessee at Eastport, Mississippi, and follows close to the banks of the river up to the shoals. This road, of vast importance to the enemy, would cease to be of use to them for through traffic the moment Fort Henry became ours."
From Fort Henry to Corinth by Manning Ferguson Force is an available online nineteenth century resource for a narrative on the battle utilizing several maps to emphasize the importance of the strategic impact of capturing the fort is fully available on Google Books. Where the South Lost the War: An Analysis of the Fort Henry-Fort Donelson Campaign, February 1862 by Kendall D. Gott is another valuable book on the battle that can be previewed on Google Books. The Tennessee Encyclopedia of History and Culture provides an informative overview of the battle and has suggested readings for more information on the battle. The Library of Congress has a number of images and maps of the fort and surrounding areas.