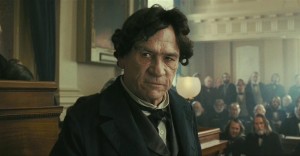 In the scene in Spielberg's "Lincoln" which introduces the audience to Rep. Thaddeus Stevens (R, PA), the chairman of the House Committee of Ways and Means, the script describes the setting in Stevens' Capitol Hill office as "redolent of politics, ideology (a bust of Robespierre, a print of Tom Paine), long occupancy and hard work" (p. 30).  For historians, such characterizations seem heavy-handed and somewhat out-of-date.  Older generations of scholars sometimes referred to the radicals as "Jacobins" (borrowing insulting language from the period) and fixated on the eminently quotable and always crusty Stevens, but in recent years, historians have tried to be more attentive to the complexities of wartime partisanship.  For example, the fictional character in the movie named Asa Vintner Litton (Stephen Spinella), described in the script as a lame duck radical Republican from Maryland, seems to be based on Rep. Henry Winter Davis.  Yet Davis, despite his radical reputation, had a complicated view about the antislavery amendment.  He had missed the June 1864 vote on the amendment (intentionally, according to historian Michael Vorenberg in his book, Final Freedom, p. 129) because he considered his omnibus reconstruction plan (the controversial Wade-Davis Bill, which Lincoln pocket-vetoed that summer) preferable to the separate measures for abolition and reconstruction that had been introduced by Rep. James Ashley (R, Ohio) and were being debated again in January 1865.  In the film, however, Rep. Litton is the embodiment of pure radicalism and believes more deeply in Ashley's amendment than anybody else –even in some ways Ashley himself– calling it "abolition's best legal prayer."
The film plays fast-and-loose in such minor ways with radical figures, mainly for the sake of simplicity but also sometimes it appears just out of error.  "Bluff" Wade is a character in the script identified as a Republican senator from Massachusetts who somewhat implausibly attends the House Republican strategy sessions in Stevens's office.  Presumably, the intention was to make this figure Benjamin "Bluff" Wade, the Republican radical  (and Davis's partner in his failed Reconstruction bill), who was born in Massachusetts but served as a Republican senator from Ohio.
For the sake of simplicity, the film also makes Thaddeus Stevens the central radical figure organizing the amendment's passage, even more so than the measure's sponsor, Ashley.  This is not how many historians characterize Stevens's role.  He was an important figure, but probably not the central one in securing passage of the Thirteenth Amendment.  Stevens had only four index entries in Doris Kearns Goodwin's Team of Rivals (2005), a nearly 800-page book from which the screenplay was adapted.  Stevens plays a somewhat larger role in Michael Vorenberg's more compact Final Freedom (2001) with seven index entries but even there he is clearly superseded by other figures such as Ashley and Senator Lyman Trumbull (R, IL), who is not even mentioned in the film.  The latest and most comprehensive study of wartime abolition policies –James Oakes's Freedom National (2012)– contains a mere six index entries for Stevens.
By contrast, Stevens (Tommy Lee Jones) has about 45 speaking parts in the Spielberg film, apparently second only to Abraham Lincoln(Scene 17).  He looms large as a counter-weight to the president  –Lincoln's near opposite in both style and policy.  Their confrontation in the White House kitchen is one of the movie's most pivotal scenes and also arguably one of its most historically implausible.  Besides the unlikely setting, scriptwriter Tony Kushner seems to be investing many older –and quite hostile– ideas about Stevens into this conversation which contrasts Lincoln's calculated, pragmatic approach to Stevens's rigid, ideological worldview.  He actually has Stevens / Jones saying at one point, in defense of his sweeping plans for revolutionizing the South,  "Ah, shit on the people and what they want and what they are ready for!  I don't give a goddamn about the people and what they want!  This is the face of someone who has fought long and hard for the good of the people without caring much for any of 'em."   Such lines (minus the cursing) would be perfectly at home in the captions of D.W. Griffith's ground-breaking and controversial silent film, "Birth of A Nation" (1915).  Griffith's film depicted Reconstruction as an utter failure in part because of the unyielding attitudes of radicals like Austin Stoneman (the character based upon Stevens).  In the kitchen debate between Lincoln and Stevens, scriptwriter Kushner seems to embrace elements of this view.  He told NPR, for instance, "The abuse of the South after they were defeated was a catastrophe, and helped lead to just unimaginable, untellable human suffering."
Still, Kushner's / Spielberg's representation of Stevens contains important nuances that save Tommy Lee Jones's performance from being merely emblematic of the so-called "Lost Cause."   The gripping scene during the House debates where Stevens / Jones restricts himself to endorsing "equality before the law" and nothing more underscores the pragmatic considerations that often motivated Radicals, especially during this moment in the Civil War.  However, the scene is also full of small-bore examples of artistic license.  The excerpts from the House debates are not real quotations from the Congressional GlobeJanuary 5, 1865  or even apparently from the sometimes more descriptive newspaper accounts.  Instead, they appear to be a creative collage of materials pulled together by Tony Kushner from a variety of secondary sources.  Michael Vorenberg, for example, quotes Stevens announcing during a different debate  –as part of a concerted radical strategy during this period to avoid inflammatory questions about racial equality — that he "never held to that doctrine of negro equality … not equality in all things -simply before the laws, nothing else."  That was on –ten days before the movie has Lincoln lecturing Stevens about pragmatism in the White House kitchen and three weeks before it has the congressman saying something similar on the floor of the House (Scene 28).  In the movie, Stevens / Jones supposedly states on January 27, 1865 that, "I don't hold with equality in all things only with equality before the law and nothing more."  This prompts Mary Lincoln in the House gallery to remark to her black dressmaker, Elizabeth Keckley, "Who'd ever guessed that old nightmare capable of such control?"  To this, Keckley excuses herself angrily and leaves.  Yet there's no evidence from any contemporary report or from Keckley's own recollection that she and Mary Lincoln ever attended the House debates.  Instead, what the filmmakers have done here by rearranging events and by inventing selected details is to increase the drama and ultimately to attribute Stevens's "conversion" to Lincoln's intervention.  Historical accounts give Lincoln no such credit, nor do they present a narrative pulsating with such drama.
One final footnote to the presentation of Thaddeus Stevens concerns the filmmakers' curious decision to place him in bed with his mixed-race housekeeper, Lydia Hamilton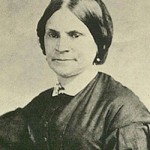 Smith, near the very end of the film.  This is a reference to widely held suspicion (among contemporaries and historians) that Stevens had a romantic relationship with Smith who stayed with him both in Lancaster and in Washington.  Stevens himself never publicly acknowledged this relationship –nor did Smith. They were buried in separate graveyards (Stevens famously in an integrated cemetery in 1868; Smith, who often passed as white, revealingly, was buried in a segregated Catholic cemetery in Lancaster many years later). It may well have been true that they were lovers, but by injecting this issue into the movie, the filmmakers risk leaving the impression for some viewers that the "secret" reason for Stevens's egalitarianism was his desire to legitimate his romance across racial lines.  This type of simplistic connection would appall most historians, but the awkward nature of the revelation (Scene 43) makes it plausible as an interpretation.