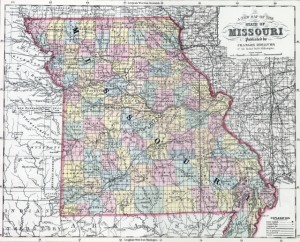 One hundred fifty years ago today the Savannah (GA) News published a short report on the serious conditions that existed in Missouri. The News characterized the situation as one in which the Republicans were trying to take over the state with force. They "are making open war upon the people of that State who refuse abject submission to Abe Lincoln," as the News explained. In addition, the News described an incident in St. Louis in which Republicans had apparently killed civilians:
According to the newspaper accounts, the late massacre by his troops in St. Louis was of a more serious character than at first reported. – Some twenty persons – men, women and children – were killed, and a large number were wounded. It is further stated that no attack was made upon the troops by the people, who hooted and jeered the Lincoln troops, when three of the German companies fired upon them.
Yet even though northerners were "collecting supplies to be sent immediately to the Lincoln forces in Missouri," the News remained confident "that the day of retribution… is not far distant." As the News concluded, "there is a spirit of resolute resistance in both Missouri and Maryland, that will not be easily subdued." You can learn more about the war is Missouri in Bruce Nichols' Guerrilla Warfare in Civil War Missouri, 1862 (2004) and Donald L. Gilmore's Civil War on the Missouri-Kansas Border (2005).