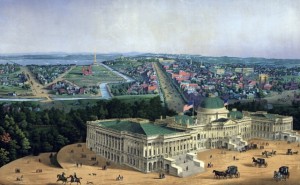 One hundred fifty years ago today the Cleveland (OH) Herald published a report from the Philadelphia (PA) Press on how the New York Zouaves in Washington, DC were called in to put out a fire at the famous Willard's Hotel. As the soldiers were unable to find any ladders, the Press' correspondent described how:
The New York boys…sprang to the windows of the telegraph office, between the burning store and the main entrance to the hotel; from the window they raised members of the company on their shoulders to the next window, and thence they continued from window to window until the top of the building was gained – an adventure worthy of great commendation, as it was accomplished only through heroic daring and effort. Hose pipes were immediately handed up, and water applied to the flames, which had then broken out on the roof of the wing…. The New Jersey and New York men worked heroically, and a prospect of saving the main building began to be realized.
John Hay, who worked as President Abraham Lincoln's secretary, noted in his diary that "Ellsworths Zouaves covered themselves with glory… in saving Willard's Hotel and quenching a most ugly looking fire." "They are utterly unapproachable in anything they attempt," as Hay concluded. Yet almost two weeks later the New York Zouaves' commander, Elmer E. Ellsworth, was killed after he removed a Confederate flag from a building in Alexandria, Virginia. "So much of promised usefulness to one's country, and of bright hopes for one's self and friends, have rarely been so suddenly dashed as in his fall," as President Lincoln told Ellsworth's parents. You can learn more about Ellsworth in John Hay's "Ellsworth," Atlantic Monthly (1861) and Ruth Painter Randall's Colonel Elmer Ellsworth: A Biography of Lincoln's Friend and First Hero of the Civil War (1960).