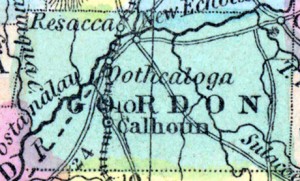 The Battle of Resaca took place from May 13-15, 1864 in Gordon and Whitfield Counties in Georgia as a part of the Atlanta Campaign.  A majority of the fighting took place on May 14 when Union Major General William T. Sherman and the Military Division of the Mississippi attacked Confederate General Joseph E. Johnston and the Army of Tennessee.  The battle continued into the following day without much success on either side until General Sherman sent troops across the Oostanaula River in the direction of the Confederate supply line, forcing Johnston to retire from the battle.  The Civil War Preservation Trust's website offers an article, "Battle of Resaca: Botched Union Attack," which describes missed Union opportunities that may have helped them win the battle.  The website also includes brief biographies of General Sherman and General Johnston as well as a map that shows troop movement on the Union and Confederate sides.  Sherman described the Battle of Resaca in a letter to his brother, Senator John Sherman:
"Johnston had chose Dalton as his place of battle, but he had made all the road to it so difficult that I resolved to turn it, so I passed my army through a pass about twenty miles south of Dalton and forced him to battle at Resaca.  That, too, was very strong, but we beat him at all points and as I got a bridge across the Oostanaula below him and was gradually getting to his rear, he again abandoned his position in the night and I have been pushing my force after him as fast as possible; yet his knowledge of the country and the advantage of a good railroad to his rear enabled him to escape me, but I now have full possession of all the rich country of the of the Etowah.  We occupy Rome, Kingston, and Cassville."
In terms of modern scholarship, another resource that may be interesting to browse is Philip L. Secrist's The Battle of Resaca: The Atlanta Campaign, 1864, available as a preview on Google Books, which gives a summary of the battle as well as the rest of the campaign that followed.  Also available on Google Books, Union General Ulysses S. Grant commented on the battle briefly in his book, Personal Memoirs while Craig L. Symonds's Joseph E. Johnston: a Civil War Biography provides more of a Confederate perspective of the fighting.  The Library of Congress's online collection of Lincoln Papers includes a transcripted letter from Daniel E. Sickles to President Abraham Lincoln describing Sherman's movements during the battle.