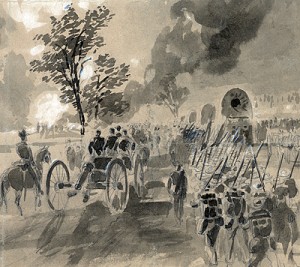 The Battle of Gaines' Mill took place on June 27, 1862 in Hanover County, Virginia and was the third of the Seven Days' Battles and its largest engagement. After the battle of Beaver Dam Creek, Union Major General George B. McClellan determined to change his base to the James River in order to protect his Army of the Potomac from what he felt was a much superior Confederate Army. Confederate General Robert E. Lee unleashed a relentless attack against Union Brigadier General Fitz John Porter throughout the day. McClellan driven by fear and indecision was convinced that his Union Army was vastly outnumbered and failed to provide adequate reinforcements for Porter's V Corps. As the battle raged, the Confederate Army awaited the arrival of Major General Stonewall Jackson to turn the tide in the battle. Jackson arrived later than Lee expected which proved costly for the Confederate soldiers. By the time Lee executed his all out attack on the Union Army with Jackson present, it was 7 P.M. and darkness was approaching.
The final assault from the Confederate Army was successful in finally breaking Porter's line. McClellan eventually provided reinforcements but only about one tenth of the forces he had at his disposal. The Union troops arrived just as Porter's soldiers fell back into a retreat. The Confederate Army pushed McClellan's army into a further retreat, ending the Union General's hopes for capturing Richmond and gave Lee his first major victory of the campaign. The battle was not won without staggering losses from both sides. Estimated casualties for the Confederates totaled 8,700 while the Federals suffered 6,800. McClellan avoided a major defeat but felt that his Army was vastly inferior to the Confederacy, something that would plague McClellan and the Union Army for the rest of his tenure as general-in-chief of the Union Army. In a telegram sent to Secretary of War Edwin M. Stanton, McClellan professed:
"I have lost this battle because my force was too small…The Government has not sustained this army….If I save this army now, I tell you plainly that I owe no thanks to you or to any other persons in Washington. You have done your best to sacrifice this army."
The Civil War Preservation Trust website provides a wealth of information on the battle including images, maps, recommended readings, online resources and scholarly articles. The Official Virginia Civil War Battlefield Guide by John S. Salmon is partially available on Google Books and offers a clear overview of the battle with maps and gives directions and information for visiting the battlefield. One of best reviewed and definitive accounts of the battle is featured in Stephen W. Sears' To the Gates of Richmond: The Peninsula Campaign. For primary accounts from both sides, consult volume 11 of the Official Records.