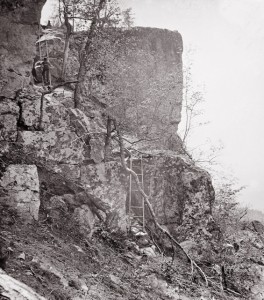 On November 23-25, 1863 the Battle of Chattanooga took place in Hamilton County, Tennessee.  Beginning in late September, the Confederate forces under the direction of General Braxton Bragg  placed Major General William Rosecrans's Union forces under siege and cut off its supply line.  In October and November, Union General Ulysses S. Grant and the Union soldiers were able to capture Orchard Knob, Lookout Mountain, and also forced the Confederates off of Missionary Ridge.  The National Park Service's website provides an overview of the battle as well as information on planning a visit to the battlefield.  The website also offers two pamphlets that may be useful: The Campaign for Chattanooga (1932) and Chickamauga and Chattanooga Battlefields (1956). The battle could be connected to a lesson on Sherman's March to the Sea in 1864 since Union General William T. Sherman was able to use Chattanooga as the base for his march as a result of the Union victory in 1863.  Grant commented on Chattanooga in his memoirs:
"Sherman had, as already stated, crossed to the north side of the Tennessee River at Brown's ferry, in full view of the troops on Missionary Ridge until they met their assault.  Bragg knew it was Sherman's troops that had crossed, and, they being so long out of view, may have supposed that they had gone up the north bank of the Tennessee River to the relief of Knoxville and that Longstreet was therefore in danger.  But the first great blunder, detaching Longstreet, cannot be accounted for in any way I know of.  If he had captured Chattanooga, East Tennessee would have fallen without a struggle.  It would have been a victory for us to have got our army away from Chattanooga safely.  It was a manifold greater victory to drive away the besieging army; a still greater one to defeat that army in his chosen ground and nearly annihilate it." 
Some other resources that may be helpful to browse are Battles and Leaders of the Civil War which gives a firsthand account of the campaign and battle from General Grant, and Three Days Battle at Chattanooga which provides a copy of the dispatch on the battle from General Meigs to the Secretary of War, Edwin M. Stanton.  The Library of Congress's website contains a few different letters with transcriptions, including one from General Grant reporting the beginning of the conflict and one reporting its end.  Also, the Civil War Preservation Trust's website provides historical articles on the battle, including "Chattanooga, Lookout Mountain, and Missionary Ridge Battles" that gives a detailed summary of the actions and consequences for the Union and Confederate forces at each location.