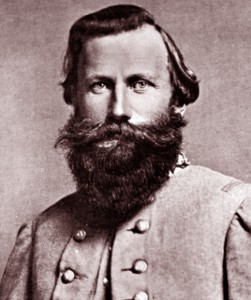 On June 9, 1863, the Battle of Brandy Station, also known as the Battle of Fleetwood Hill, took place in Culpeper County, Virginia.  Early in the morning, Union Major General Alfred Pleasonton and his forces began a surprise attack on the Confederates and General James Ewell Brown Stuart.  Brandy Station was one of the largest cavalry battles and marked the opening of the Gettysburg Campaign.  The National Park Service's website provides a summary of the battle as well as a list of different stops and descriptions of each for those planning on visiting or taking a field trip.  The Brandy Station Foundation has a website that includes tour dates as well as information for visiting  Brandy Station's "Graffiti House" which contains messages and signatures of Union and Confederate soldiers.  In his book, War Years with Jeb Stuart, W.W. Blackford commented on the battle:
"At that time their cavalry could not stand before us at all, and it was not until the great battle on this same ground on the 9th of June, 1863, "Fleetwood Fight," that they offered us any determined resistance.  From that time the difficulty of getting remounts acted disastrously upon the strength of our cavalry arm, not only in diminishing the numbers but impairing the spirit of the men."
Another resource that may be valuable to look at is Henry McClellan's book I Road with Jeb Stuart: the Life and Campaigns of Major General J.E.B. Stuart; both McClellan and Blackford's recollections provide a firsthand perspective of General Stuart from men who fought alongside him in battle.  In terms of modern scholarship, Emory Thomas's Bold Dragoon: The Life of J.E.B. Stuart, available as a preview on Google Books, gives a concise overview of the battle and a map that depicts Stuart's movements into Pennsylvania during the Gettysburg Campaign.   Also, Brandy Station 1863: First Step Towards Gettysburg  includes a list of all the Union and Confederate troops present at the battle.