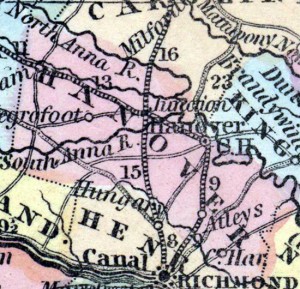 The Battle of Beaver Dam Creek (also known as the Battle of Mechanicsville) took place on June 26, 1862 in Hanover County, Virginia as a part of the Peninsula Campaign.  During this battle, the second of the Seven Days' Battles, Confederate General Robert E. Lee and his forces attacked Union Brigadier General Fitz John Porter and sustained high casualties as a result.  Although it was declared a Union victory, the Confederate forces were able to push the Union troops to retreat about thirty miles away from Richmond as they advanced.  The National Park Service's website provides a concise overview of the Battle of Beaver Dam Creek and comments on the preservation of the battlefield for those looking to take a field trip to the area.  The Civil War Preservation Trust 's website includes a list of recommended readings as well as historical articles on the Seven Days' Battles.  The website also has a map that depicts the movement of Union and Confederate troops throughout the course of the fighting.  Confederate General Robert E. Lee commented on the battle in his official reports:
"In expectation of Jackson's arrival on the enemy's right the battle was renewed at dawn, and continued with animation for about two hours, during which the passage of the creek was attempted and our troops forced their way to its banks, where their progress was arrested by the nature of the stream.  They maintained their position while preparations were being made to cross at another point nearer the Chickahominy, Before they were completed Jackson crossed Beaver Dam above, and the enemy abandoned his intrenchments and retired rapidly down the river, destroying a great deal of property, but leaving much in his deserted camps."
Another resource that may be interesting to browse on Google Books is Battles and Leaders of the Civil War which gives a firsthand perspective of the Battle of Beaver Dam Creek and offers a map of the plan of battle.  In terms of modern scholarship, Echoes of Thunder: A Guide to the Seven Days' Battles is available in limited view on Google Books and provides various official reports from different commanding officers.  For those planning on visiting the battlefield, John S. Salmon's The Official Virginia Civil War Battlefield Guide may be useful as it includes a summary of the battle, directions to the battlefield, and information on other battle sites in the surrounding areas.