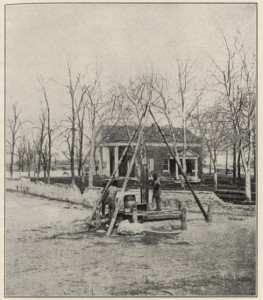 The Battle of Spotsylvania took place from May 8-21, 1864 in Spotsylvania County, Virginia following the Battle of the Wilderness.  Union General Ulysses S. Grant and his forces attacked Confederate General Robert E. Lee during Grant's attempt to advance to Richmond.  Although the fighting was fierce the Confederate Army was unable to stop the progress of the Union troops as Grant was able to continue moving towards Richmond on May 21.  The National Park Service's website provides an overview of the battle as well as links to a virtual tour of the battleground.  Also included is information for visiting the battlefield which may be valuable for teachers looking to plan a field trip to the area.  The Civil War Preservation Trust's website has historical maps as well as a collection of photographs with different markers and monuments located in the battlegrounds.  Gordon C. Rhea commented on the significance of the battle in his book The Battles for Spotsylvania Courthouse and the Road to Yellow Tavern:
"Grant's simple message carried the matter-of-fact assurance that the general meant to stay the course.  He was holding true to his clear vision of the road to victory.  The Wilderness had sorely tested his resolve, and after two days of bitter combat he was forced to concede that Lee had maneuvered him to impasse.  But he wisely recognized that the Wilderness was just a tactical reverse, not the end of the campaign.  Grant's strategic objective of destroying Lee's army remained unchanged.  His task now was to find another way to bring the wily Virginian to battle on terms more favorable to the Federals."
Another resource which may be useful is The War of the Rebellion: a Compilation of the Official Records of the Union and Confederate Armies which provides several letters of correspondence between different commanding officers during the Battle of Spotsylvania.  James McPherson's Battle Cry of Freedom, available in limited view on Google Books, gives another overview of the battle and its participants.   Also, the Library of Congress's collection of Lincoln Papers provides a few different original letters along with transcriptions regarding the battle including one from General Grant to President Abraham Lincoln that gives Grant's personal account of the Union Army's progress.