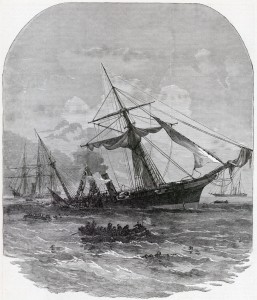 On the morning of June 19, 1864, before the naval battle with the USS Kearsarge Captain Raphael Semmes of the CSS Alabama, in an impassioned address, spoke to his crew:
"you have been all over the world and it is not too much to say that you have destroyed and driven for protection under neutral flags one half of the enemy's commerce which at the beginning of the war covered every sea This is an achievement of which you may well be proud and a grateful country will not be unmindful of it The name of your ship has become a household word wherever civilization extends Shall that name be tarnished by defeat The thing is impossible Remember that you are in the English Channel the theatre of so much of the naval glory of our race and that the eyes of all Europe are at this moment upon you The flag that floats over you is that of a young Republic who bids defiance to her enemies whenever and wherever found Show the world that you know how to uphold it."
Semmes recorded his personal experiences as the captain of CSS Alabama and Sumter in his personal memoir My Adventures Afloat … (1869), available on Google Books. Captain Semmes' stirring speech did not stop the USS Kearsarge on June 19, 1684 from sinking the Alabama and putting an end to her formidable record. In less than two years the CSS Alabama, a Confederate ship that engaged in commerce raiding by destroying Union merchant ships, sunk 62 ships including the USS Hatteras. The Naval History & Heritage Command, an agency of the Department of the Navy, outlines the history of the ship in an educational website that includes a wide range of resources for classroom use. Students can view images of the battle as published in contemporary newspapers, read excerpts from the official reports of both the Union Captain John Winslow and the Confederate Captain Semmes, or explore recent press releases about the underwater archaeological work being conducted on the wreck since its discovery in 1988 off the coast of France. For other resources, see Historyofwar.org , where they provide maps of the CSS Alabama's routes and of the battle with the USS Kearsarge.