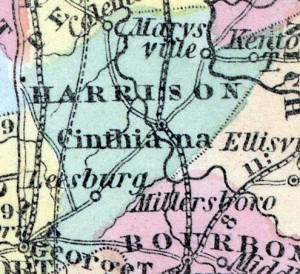 The Battle of Cynthiana (also known as Kellar's Bridge) took place on June 11-12, 1864 in Harrison County, Kentucky.  The National Park Service 's website includes a brief summary regarding the battle and the Civil War Sites Advisory Commission provides a map detailing the location of each battleground within the state as well as an overview on the condition of each individual site.  The Cynthiana battleground has over eight hundred acres of land intact that would make field trips and walking tours of the area possible.  On June 11, Confederate General John Hunt Morgan and his forces attacked General Edward Hobson and the 171st Ohio National Guard, taking over one thousand prisoners of war captive.  The following day, Union General Stephen Gano Burbridge along with the 168th Regiment Ohio Volunteer Infantry and the Kentucky Harrison County Home Guards attacked the Confederate forces at dawn and drove them back.  Collins' Historical Sketches of Kentucky: History of Kentucky, Volume 2 described the scene of the battle:
"Fatigued as they were by the previous day's operations- which resulted in the defeat and capture of two distinct Federal forces- the Confederates were not in condition to withstand the shock of a fresh body of troops.  Burbridge, with his cavalry, was enabled to flank them, and thus turn their lines; while his infantry, in the center, advanced steadily, forcing them back on the town.  The fighting commenced on Millersburg pike, about one mile east of Cynthiana.  But the Confederates- unable to hold out against the rapid and determined advance of superior numbers of fresh troops supported by artillery- soon gave way, and, by the time they reached Cynthiana, were in full retreat, and the retreat a rout.  One by one, they fell back through the town, crossed the river, and followed the Raven Creek pike.  Thus ended the battle that was fought at Cynthiana in the war for southern independence."
Some suggestions for further reading on the Battle of Cynthiana include Chronicles of Cynthiana which gives a fairly concise overview of the second battle at the site.  Other interesting resources are the Official Records and the History of Morgan's Cavalry which provides background information on General Morgan's early life and his participation in the Confederate army.