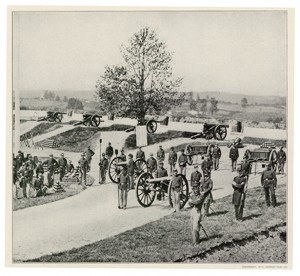 On July 11, 1864, two days after the Battle of Monocacy, Confederate forces under the command of General Jubal A. Early reached the edge of Washington D.C.  The following day, the Confederate forces faced the Union VI Corps under the direction of Major General Horatio G. Wright and Major General Alexander M. McCook and were eventually forced to withdraw from the city which ended General Early's invasion of Maryland.  President Abraham Lincoln watched the battle from Fort Stevens and was in close proximity to the fighting.  The National Park Service's website provides a concise summary  of the battle as well as the number of casualties that occurred in the midst of the fighting.  It also includes a report on the preservation of the battlefield from the Civil War Sites Advisory Committee which shows that although most of the site has been destroyed or altered through urban development there is still an area that remains preserved in Rock Creek Park and can be visited today.  The National Park Service offers lesson plans for teachers under the Historical Context for Fort Circle Parks that has key resources for classroom learning as well as suggestions for additional sources.  The Grand Army of the Republic's Washington During Wartime described the scene with President Lincoln at Fort Stevens during a conversation with General Wright:
"I entreated the President not to expose his life to the bullets of the enemy; but he seemed oblivious to his surroundings; finally, when I found that my entreaties had failed to make any impression on him, I said, 'Mr. President, I know you are commander of the armies of the United States, but I am in command here, and as you are not safe when you are standing, I order you to come sit down here.'  Mr. Lincoln looked at me and smiled, and then, in more consideration of my earnestness than inclination, stepped down and took position behind the parapet.  Even then he would persist in standing up and exposing his tall form."
Some other sources on Fort Stevens that may be interesting to browse are Robert Sampson Lanier's The Photographic History of the Civil War: Forts and Artillery as it provides some valuable images of soldiers stationed at Fort Stevens during the Civil War along with summaries of the major battles fought around the Washington D.C. area.  Two other interesting sources that can be found on Google Books are Recollections of the Civil War: With Many Original Diary Entries and Letters Written from the Seat of War, and With Annotated References and the Official Records since both give many firsthand accounts written by soldiers and officers who took part in the fighting at Fort Stevens.