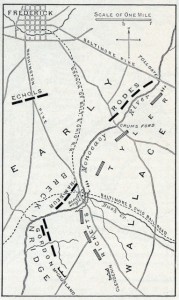 The Battle of Monocacy on July 9, 1864 in Frederick County, Maryland became known as "The battle that saved Washington" as it gave supporting Union troops more time to fill the area and defend the Capital.  The National Park Service 's website provides resources including a short summary of the battle and a map that shows the location of the battle as well as a detailed overview regarding the preservation of the site.  The Confederate forces were led by Lieutenant General Jubal A. Early whose memoir provides an interesting account of the battle from the Confederate perspective.  Major General Lew Wallace (who later on became better known as the author of the novel Ben Hur) and the Union forces attempted to arrest Early and the Confederate forces, but were defeated.  General Ulysses S. Grant highlighted the importance of the battle through an excerpt from his memoir:
"If Early had been but one day earlier, he might have entered the Capital before the arrival of the reinforcements I had sent.  Whether the delay caused by the battle [Monocacy] amounted to a day or not, General Wallace, on this occasion, by the defeat of the troops under him, contributed to a greater benefit to the cause than often falls to the lot of a commander of an equal force to render by means of a victory."
There are several other interesting books which could be valuable to learning about the Battle of Monocacy from both the Union and Confederate perspectives.  Along with Early's memoir, John H. Worsham's One of Jackson's Foot Cavalry: His Experience and What He Saw During the War 1861-1865 provides a valuable first hand narrative of the author's experience as a Confederate soldier who fought in the Battle of Monocacy.  Also, The Land We Love, Volume II is available in full view on Google Books and contains Confederate General Gordon's report on the battle which may be worthwhile to look at as it also contains reports and correspondence between other Confederate officials.  Since the Civil War Sites Advisory Commission has made the preservation of the Monocacy National Battlefield  one of its top priorities the park holds over one thousand acres and five walking trails which could provide for an interesting field trip .